CNS' Hollingsworth Slants Article Toward Those Who Restrict Voting Rights
Topic: CNSNews.com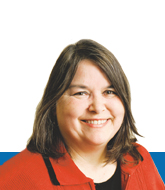 Barbara Hollingsworth is a terrible, biased reporter, and she proves it again in a Feb. 18 CNSNews.com article.
In the article, Hollingsworth complains that "A group of voting rights activists is up in arms after the executive director of the U.S. Election Assistance Commission (EAC) told elections officials in three states that they could require residents to provide documented proof of U.S. citizenship when using federal forms to register to vote." She leaves out some important information because it confllicts with her bias.
She writes that "On January 29, EAC executive director Brian Newby sent letters to the chief election officials in the three states approving their requests, stating that they could start requiring proof of U.S. citizenship - such as a birth certificate, naturalization papers, or a passport - on their national mail voter registration forms." One of those states is Kansas. But she omits the fact that Newby is a former crony of Kris Kobach, the Kansas secretary of state who been a champion of highly restrictive voting rights, and who benefits directly from Newby's ruling.
Hollingsworth completely ignores the possibility that Newby is the real "activist" here, not the voting-rights people who oppose the decision.
Hollingsworth concludes her article with an attempt to boost the rationale behind Newby's action: "A 2014 study by researchers at Virginia's Old Dominion and George Mason Universities found that 'some non-citizens participate in U.S. elections, and that this participation has been large enough to change meaningful election outcomes including Electoral College votes, and Congressional elections.'"
But Hollingsworth doesn't mention that the study has severe methodological issues. As the Washington Post details, the study uses data from the Cooperative Congressional Election Study, which was an opt-in Internet survey, and the research are dubiously assuming that non-citizens, who volunteered to take online surveys administered in English about American politics, are somehow be representative of the entire non-citizen population.
Further, the lead researcher himself admits problems with the data and says more research is needed.Yet that data was good enough fort Hollingsworth since it reinforces her pro-voting-restriction agenda.
Posted by Terry K. at 3:42 PM EST