MRC Uses Man-In-Women's-Restroom Incident To Freak Out About Transgenders
Topic: Media Research Center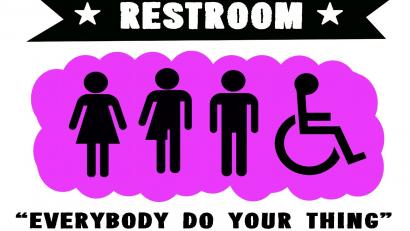 The Media Research Center has a habit of freaking out about transgenders in general, as well as pushing the right-wing "bathroom myth" -- in which allowing transgenders to use the restroom or locker room of their gender identity will somehow create perversion and danger to women -- regardless of the facts.
Mairead McArdle gives the myth another go in a Feb. 19 NewsBusters post, derisively referring to the issue as "confused commodes." She howled about how "a cisgender man invaded a women's locker room last week" in Seattle. But the article McArdle cites about the incident does not describe the culprit as "cisgender" -- indeed, McArdle later flip-flops and admits that "this particular man seemed only to be making a clumsy statement about the new rule and did not try to identify himself as a woman."
McArdle goes on to baselessly claim that the incident -- even though it had nothing to do with gender identity and may, for all we know, been perpetrated by a right-wing activist protesting the idea of using the bathroom of one's gender identity -- as a "dangerous precedent" and "The man could just as easily have been a predator pretending to identify as a woman."
Well, no. McArdle refuses to acknowledge that there's simply no evidence to support the right-wing claim that allowing transgenders to use facilities consistent with their gender identity opens the door to predators.
But, apparently, hating transgenders gets clicks at the MRC, so expect McArdle and others to keep forwarding their factually deficient propaganda.
Posted by Terry K. at 6:43 PM EST