MRC Loves That Spanish-Language Channel Is Spreading Anti-Clinton Sleaze
Topic: Media Research Center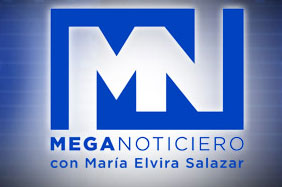 The Media Research Center couldn't be more psyched that a news program on the Spanish-language network MegaTV spread a sleazy report about Hillary Clinton. From a Feb. 22 post credited only to "MRC Latino Staff":
A few days ago, we covered a one-sided pro-sanctuary cities story on Mega Noticiero and wondered aloud whether this new national Spanish-language newscast was going to do anything to differentiate itself from the rest of the market. Boy, were we wrong.

Interesting things happen when your network is not partially owned by a top Clinton Foundation donor who has pledged his "full might" to electing Hillary Clinton to the presidency. Case in point: Mega Noticiero actually went there and covered a fresh story regarding Hillary Clinton's alleged lesbian proclivities:

MARIA ELVIRA SALAZAR, ANCHOR, MEGA NEWS: Now, the supposed ex-lover of former President Bill Clinton is assuring that Hillary is a lesbian. Miss Sally Miller, who was once Miss Arkansas, says she had a romance with Bill in 1983, and that the then Governor of that state told her that Hillary didn't like having sex with him, because she preferred sex with women.

The story aired during the newscast's new "Political Circus" segment, a daily roundup of the varied goings-on of the campaign trail and highlight, per Salazar, "what goes on under the tent."

The story has yet to air on any other major national television newscast, in English or Spanish. Mega Noticiero was evidently willing to take the risk involved, trust its viewers to watch the reporting and let them decide for themselves.

The item signals the beginning of what appears to be real market differentiation in the national Spanish-language media space.
So it's good that a media outlet is expressing "real market differentiation" by acting like the obsessive Clinton-haters at WorldNetDaily -- which, unsurprisingly, promoted the same claim -- by promoting a woman who's widely considered to have no credibility? Apparently it is at MRC Latino.
When we pointed it out to MRC Latino on Twitter, he/she/they responded, "the post simply observes, takes note of the dynamics of the coverage out there." They later added: "focus is not promotion or endorsement, but analysis of what's already out there and going on in media segment."
That's a disingenous defense. MRC Latino could have distanced itself from the content of the smear it was promoting has it talked about "market differentiation," but it didn't. And MRC Latino is not afraid to judge content, at least when it comes to content that doesn't mesh with its ideology: Five days earlier, "MRC Latino Staff" dedicated a post to attacking the very same news show for a story on sanctuary cities, declaring that it was "breathtaking, to say the least, in the scope of its bias."
MRC Latino, meanwhile, chearly has no problem with the breathtaking bias of the Hillary smear promulgated by the very same people.
That's some very shoddy "media research" there. But that's what you get when people who aren't very fond of Latinos monitor Latino media.
Posted by Terry K. at 10:08 PM EST