Logrolling In Our Time, Jim Fletcher Edition
Topic: WorldNetDaily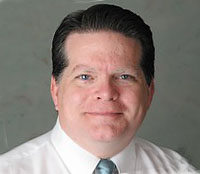 We've documented that one of Jim Fletcher's duties as a WorldNetDaily columnist is to crank out rave reviews of WND-published books. He does this yet again in his Feb. 14 WND column:
America has endured epic crises in her history: the Great Depression, world wars, even internal strife. Perhaps none, though, compares with the current Thing in the White House. David Kupelian has it right in his spot-on new book, "The Snapping of the American Mind: Healing a Nation Broken by a Lawless Government and Godless Culture." Kupelian, whose books are correctly defined by an endorser as "fearless," has that rarest of virtues: he doesn't care what critics think when he says things that need to be said.

In fact, Kupelian starts off early in "Snapping" by correctly defining the agenda of the Obama administration, calling it a "largely concealed agenda." This key understanding, of course, is markedly different from those in the majority who lament the "incompetence" of Obama.

If only.

[...]

"The Snapping of the American Mind" is the kind of book that mavericks write and produce, and I dare say if we didn't have independent outlets, the average American would know next to nothing. Because people do know what's going on, thanks in large part to researchers like Kupelian, the country has a chance to survive the Marxist-in-chief. In fact, Kupelian also keenly understands what other fighters like David Horowitz understand: Our opponents have contempt for the "niceness" that has gripped the Republican Party.

Kupelian is having none of it. An example of how he skillfully dismisses ideological opponents: "To my liberal friends: Do me a favor and don't tell me, 'But the '50s had racial segregation.' Yes, and today we dismember, poison, vacuum, crush the skulls of, chemically burn, or decapitate three thousand beautiful human babies every single day. So just drop it."

[...]

Every single chapter in "Snapping" is gold. The reader will learn not only why we are where we are, but also he points to the ultimate solution: not the false messiah so many are embracing, but the Real One.

(One final note: I love books with an index. This one has one; just an added reason to get it, read it, absorb it.)
Fletcher fails to mention even once that not only is the book published by WND, Kupelian is WND's managing editor. Yet every single mention of the book's title in this purported review is linked to WND's online store. Hype over substance!
Posted by Terry K. at 1:37 PM EST
Updated: Saturday, February 20, 2016 1:39 PM EST