WND's Farah Denounces Jewish Profiling, Hides That WND Columnist Did It
Topic: WorldNetDaily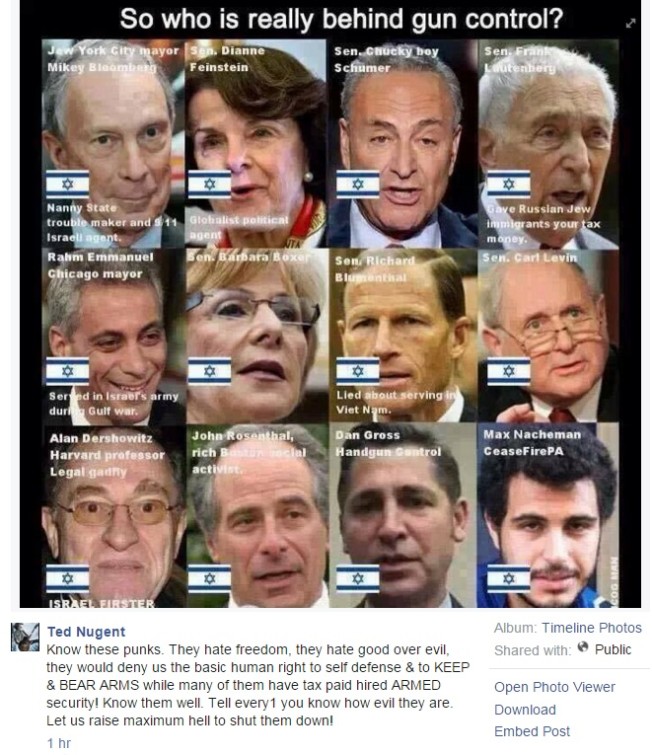 Joseph Farah writes in his feb. 16 WorldNetDaily column:
It's been going for decades in Washington – especially in the military and intelligence sectors.

Jews and former Israelis continue to be negatively profiled for government employment and contractor positions, especially those that involve security clearances.

Impossible you say?

No, it's a dirty little fact and hardly a secret in Washington.

How can this be so when Barack Obama and the Washington establishment consistently denounce the idea of "profiling" people?

[...]

The sad fact is there is a growing bias against Israel in Washington, under the Obama administration, on college campuses where Israel defenders are often denied a forum to speak, in short, wherever so-called "progressives" reign supreme.
Farah didn't mention that one of his own WND columnists engaged in a more vile form of Jewish "profiling" -- to the point that it's arguably anti-Semitism.
WND columnist Ted Nugent proclaimed earlier this month that gun control was some kind of Jewish-led conspiracy, posting on his Facebook page pictures of Jewish politicians that included a small Israeli flag stamped on each individual's face. He later defended the post, ranting, "What sort of racist prejudiced POS could possibly not know that Jews for guncontrol are nazis in disguise?" White nationalists loved it.
Yet Farah and WND has been silent about this offensive behavior by one of its columnists. Then again, Farah is too gutless to drop Ann Coulter's column no matter how offensive she gets gecause WND needs the clicks she brings.
(P.S. Two days after Farah's column appeared, Nugent finally apologized for the post, though it's still live on his Facebook page. WND hasn't mentioned that, either.)
Posted by Terry K. at 12:24 AM EST