After Ignoring Cruz For Months, WND's Corsi Pretends To Be A Reasonable Birther
Topic: WorldNetDaily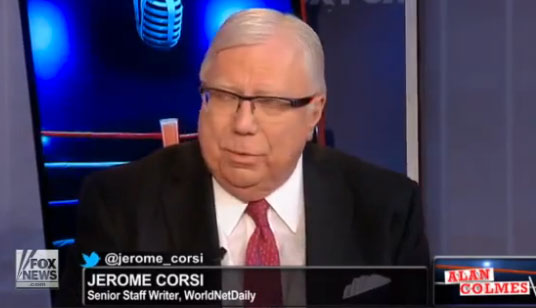 Earlier this week, WorldNetDaily's Jerome Corsi did an interview with Alan Colmes on his FoxNews.com webcast (WND's headline oddly billed Colmes as a "Fox News star," even though he currently just does a radio show and the webcast, and he hasn't hosted a show on Fox News proper for years; then again, this is also the closest anyone from WND has gotten to Fox News proper in years, so it has to take what it can get). Corsi's still clinging to his Obama birther fantasies, suggesting that Obama's birth certificate is fake and that there was likely fraud involved in portraying him as a citizen.
Colmes then got to the key questions regarding Ted Cruz's eligibility, trying to pin down Corsi:
COLMES: So will you be going after Cruz the same way you went after Obama for not being born here--

CORSI: Well, I've already published this and made a point of it.

[...]

COLMES: You've been one of the most prominent writers about the Obama birth issue. Would you do the same if Ted Cruz is the nominee?

CORSI: I've already started.

COLMES: What are you doing?

CORSI: I wrote an article making the point I just made, that under Vattel standard --

COLMES: So you will go after Cruz -- you're no fan of the left, I know, but Cruz --

CORSI: -- Cruz is not a natural born citizen. We're going to have to expand the standard to get Cruz and Rubio, because Rubio has a problem...
It's only a five-minute interview, so not much gets covered. But notice how Corsi weasels out of how he has ignored Cruz birther issues until now, citing how he just "wrote an article" on the subject. That, presumably, is the one where he tries to cover for Cruz by uncritically citing a congressional research report on the issue that he previously attacked because it made the case that Obama (and, by extension, Cruz) is eligible.
If Corsi is just now getting around to covering the Cruz birther issue, he's either pretty lazy or willfully blind. Certainly he's been aware of the issue for years; he could have been reporting on it for the months that Cruz has been a presidential candidate. We pointed out last year that Corsi ignored eligibility issues when Cruz announced his candidacy and seemed concerned only that Cruz's wife had links to the "globalist" Council on Foreign Relations.
But let's be clear: Corsi and WND like Cruz, and he didn't want to make his eligibility an issue for fear of hurting his campaign. It's only because Donald Trump has turned it into an issue that Corsi and WND have finally gotten around to covering it -- and in a way that's completely opposite of their relentless birther attacks on Obama. Indeed, another Corsi article at WND complains that Trump is using the birther issue to drive Cruz off message.
More proof of this is in Corsi's Twitter feed. Even though, again, Cruz has been a presidential candidate for months, it's not until about Jan. 15 that he starts bothering to tweet about the birther issue, mainly to declare that "TRUMP WAS RIGHT" that it would come up and that (gadfly-ish) Democrats would file legal actions on the issue.
Corsi and WND never actually cared about the Constitution when applying birtherism to Obama; it was just another attempt to destroy him. They were determined to ignore Cruz birtherism until Trump made it an issue -- and effectively shamed them into covering it because it was all too noticeable that they were, in fact, not going to treat Cruz like they did Obama.
Corsi now has to pretend to care about the Constitution, calling for a definitive court ruling on what a "natural born citizen" is. Of course, if Corsi can't even accept that Obama's birth certificates are real, there's no point in him suddenly trying to look like a reasonable birther now.
Posted by Terry K. at 8:46 AM EST