CNS' Laughably Twisted Coverage of Obama's State of the Union Address
Topic: CNSNews.com
In a year-end fundraising email, Media Research Center chief Brent Bozell declared that his "news" division, CNSNews.com "exist[s] to lead by example." It's setting an example, all right -- of how to twist and distort a story for maximum right-wing bias.
Take a look at the two original articles CNS generated on President Obama's State of the Union speech. The first, credited anonymously to "CNSNews.com Staff," requires a full three ellipses to cobble together a supposedly inflammatory quote: "Obama Applauds: 'Voices That Help Us See Ourselves…Not as Gay or Straight…But…Bound by a Common Creed'."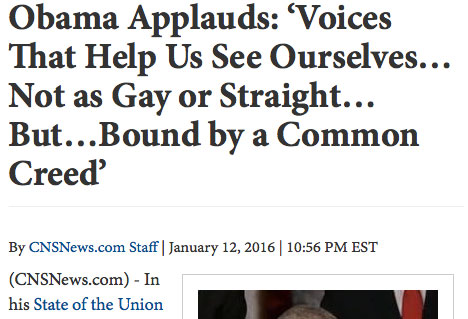 The apparent point of the article is outrage that Obama would describe gays as anything remotely equal to conservatives, since that's a violation of CNS' anti-gay agenda.
This anonymous writer -- why would CNS hide who the person is, since the entire staff seems to be quite proud of its hatred for gays -- is joined by an on-the-record writer, morning managing editor Susan Jones, who serves up a blog post that portrays things she thinks she heard in Obama's speech -- but weren't actually said -- as fact:
President Obama laid out his liberal vision for America Tuesday night, telling Americans that the state of the union is strong, but hinting it could be a whole lot stronger if everyone would just vote for people who agree with Obama's policies.

"The future we want — opportunity and security for our families; a rising standard of living and a sustainable, peaceful planet for our kids — all that is within our reach. But it will only happen if we work together. It will only happen if we can have rational, constructive debates. It will only happen if we fix our politics," Obama said.

[...]

Obama indicated that when he leaves office next year, he'll return to community organizing on a grand scale:

"I'll be right there with you as a citizen, inspired by those voices of fairness and vision, of grit and good humor and kindness that have helped America travel so far. Voices that help us see ourselves not first and foremost as black or white or Asian or Latino, not as gay or straight, immigrant or native born; not as Democrats or Republicans, but as Americans first, bound by a common creed. Voices Dr. King believed would have the final word — voices of unarmed truth and unconditional love."
Reminder: Jones, as a managing editor, handles actual news copy. Thus, she is leading by example -- though not the one boss Bozell wants to think she's setting.
Posted by Terry K. at 4:05 PM EST