Obama's Christianity Makes Tim Graham Want To Vomit
Topic: Media Research Center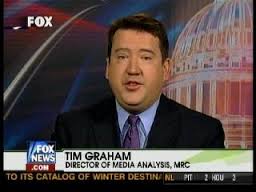 When we read the Washington Post article on President Obama's Christian faith, we knew that the Media Research Center couldn't resist attacking it -- being a positive story about Obama's faith -- and we said so on Twitter.
And we were right. Stepping to do the trashing is Tim Graham under the headline "Emetic WashPost Front Page: 'The Quiet Impact of Obama's Christian Faith'." Graham is particularly incensed that the Post pointed out the fact that "no modern president has had his faith more routinely questioned or disparaged, and the nation has grown more polarized during his presidency" than Obama:
Fact checker, please? Does the Post really want to "scientifically" attempt to prove that George W. Bush's faith was less disparaged? Or that he discussed his spiritual awakening less?
This from a guy who's an official at an organization that thinks the completely subjective idea of "bias" can be measured scientifically.
Graham went on to sneer that the story "focused on an Obama speech at a Charleston church after nine people were senselessly murdered there after a Bible study in June – an occasion on which it would seem awfully hard to avoid talking about church," and that it "claimed Obama hopes to reach out for bipartisan work on criminal justice reform, gun control, and the closing of the prison at Guantanamo...as if there's any reason for optimism."
Graham concluded by insisting that "Obama's political base wants his faith to be as "quiet" as possible, almost nonexistent -- unless it can be put on display after a church shooting."
Oh, by the way, "emetic" means something that causes vomiting. (Kudos on the thesaurus-plundering, Tim.) Graham is ostensibly referring to the Post's decision to report on Obama's faith, but it's clear from the tone of his post that the mere fact that Obama is a Christian makes him want to vomit as well.
The guy who has a sad that his well-paid right-wing anti-media rage isn't accepted as "sincere" is cynically mocking the sincerity of Obama's faith.
Posted by Terry K. at 6:31 PM EST