WND's Massie Thinks Obama's Suits Are Communist
Topic: WorldNetDaily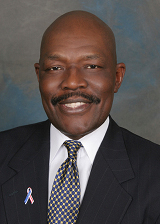 In the midst of yet another anti-Obama tirade, Mychal Massie writes in his Dec. 21 column:
The Obamas eschew faux couture such as "swaddling clothes" in favor of suits for him by Hartmarx of Chicago (interesting that Obama would find a way to incorporate "marx" into even a clothing line) and Michael Kors, Jason Wu, Narciso Rodriguez and Isabel Toleda, to name but a very few clothing designers for her.
Where to begin to unpack such stupidity?
First, Hartmarx isn't an actual thing anymore. That names was for the holding company for, among other things, Hart Schaffner & Marx suits; it filed for bankruptcy in 2009 and is now owned by Authentic Brands Group.
Second, the "Marx" in the company's name has nothing to do with communism, no matter how much Massie's fevered imagination wishes it were so. The brand's origins go back to 1872, when the Hart brothers opened a men's store in Chicago. Their brother-in-law, Marcus Marx, joined the business seven years later.
Third: Why is Massie sneering at Obama for choosing off-the-rack suits made in America? That's utterly stupid. And the other designers Massie calls out by name are either American born or raised, or in the case of Canadian-Taiwanese Jason Wu, attended school in America. Two of them, Rodriguez and Isabel Toledo (Massie can't be bothered to spell her name correctly) were born to Cuban emigres. And Toledo has a line at Lane Bryant, for crying out loud, so Massie's suggestion of snobbery in Michelle Obama's taste in clothing is horribly misplaced.
Of course, Massie is so afflicted by Obama Derangement Syndrome that he calls Michelle Obama "Buttzilla," so he would invent things to get mad about regarding the Obamas.
Posted by Terry K. at 8:27 AM EST