WND Promotes False Anti-Muslim Story
Topic: WorldNetDaily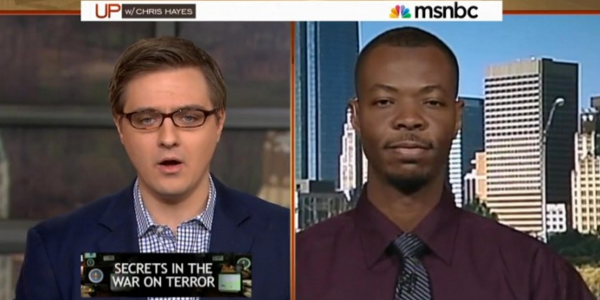 It was a story too good to be true -- and too good for WorldNetDaily to actually bother to check out for accuracy.
Cheryl Chumley wrote in a Nov. 24 WND article:
A man who was used by American leftists as an example of righteous outrage over the U.S. government's no-fly lists and the supposed biased targeting of innocent Muslims has been arrested and jailed by Turkish authorities who say he's tied to ISIS.

Saadiq Long and his family members were all arrested near the Turkey-Syria border earlier this month on charges they belonged to an ISIS terrorist cell, PJ Media reported.

What's most interesting about the arrest is Long was the face chosen by the likes of MSNBC's Chris Hayes, Mother Jones magazine and author and columnist Glenn Greenwald to use as an example of government surveillance gone wrong.
Matthew Vadum dutifully repeated the claim, making him a bullet point in a Dec. 6 WND article purporting to debunk the idea that Islamophobia exists:
Saadiq Long: the American-born Muslim convert promoted by the Left as a victim of Islamophobia has been arrested in Turkey near the Syrian border, accused of being part of an Islamic State terror cell. Long became a media darling after he was placed on the U.S. government's no-fly list, which prevented him from flying from his current home in Qatar to his native Oklahoma to see his ailing mother two years ago. Marxist muckraker Glenn Greenwald howled that Long was "effectively exiled from his own country," and Kevin Drum of Mother Jones lamented that Long was trapped in the "Kafkaesque World of the No-Fly List." Eventually the government caved and allowed Long to fly to the U.S. While stateside police returned him to the list, preventing his return to Qatar. He hopped on a bus and flew out of Mexico and was later picked up by Turkish authorities along with other accused terrorists.
Turns out it's not true at all.
The Intercept reports that "Neither Long nor his wife or daughter have been arrested on charges that he joined ISIS. He faces no criminal charges of any kind in Turkey." The reason for his detention is that he is apparently on the no-fly list -- which WND itself noted just a few days ago "relies on an overly broad standard of reasonable suspicion" and is filled with "thousands of innocent people" -- and the U.S. embassy in Ankara is intervening on his behalf.
Given that WND typically allows falsehoods to remain on hits website uncorrected unless a lawsuit or threat of a lawsuit is involved, don't expect WND to do the right thing here.
Posted by Terry K. at 8:45 AM EST