Yes, Tim Graham, The MRC Does Conflate Opinion With News
Topic: Media Research Center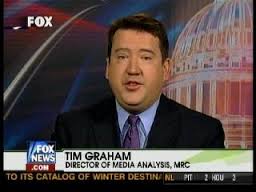 The Media Research Center's Tim Graham devotes a Dec. 7 NewsBusters post to whining that a Washington Post reporter has called out conservatives' repeated bleating about "liberal media bias" as usually "unfounded or greatly exaggerated" because "What they often fail to recognize -- or deliberately ignore -- is the separation of news and opinion."
Once again, Graham complains about the sincerity issue, huffing that the Post writer "cheaply tagged Republicans as insincere exploiters of media bias accusations" while suggesting, as he has before, that his own intentions are completely sincere despite getting paid very well to promote them and inculcate them into other conservatives. Remember, Graham's boss, Brent Bozell, proclaimed that hearing Republicans talk about media bias was "better than sex." Conservatives usually don't talk like that in a sincere way.
While Graham goes on to rant that "Republicans think many news reports in the Times (and the Post) are loaded with opinion and "news analysis" that blurs whatever divide they think they are maintaining," the point remains -- and Graham never counters it -- that conservatives conflate opinion with reporting to press their "media bias" case. The MRC frequently criticizes liberals who are being paid to express liberal opinions for the mere act of expressing that opinion -- or for simply appearing on TV at all -- which cheapens their case.
Case in point: A Dec. 1 NewsBusters post by Kristine Marsh is headlined "Journalists Freak Out on Twitter: Pro-Life 'Extremists 'Want to Kill' Women." She goes on to cite what she called "the worst examples of journalists blaming pro-lifers for the violence that ensued last week."
But all of the people she cited are columnists or bloggers or employees of opinion journals; none of them are reporters for major media outlets, as Marsh's use of "journalists" suggests.
That's how conservatives (and the MRC) fail to recognize "the separation of news and opinion" in making their "media bias" claims. Graham doesn't counter that, because he knows it's true -- and that the right's whole "liberal media bias" argument rests on a shaky foundation.
Posted by Terry K. at 4:18 PM EST