AIM's Kincaid Twists Planned Parenthood Shooting To His Own Right-Wing Obsessions
Topic: Accuracy in Media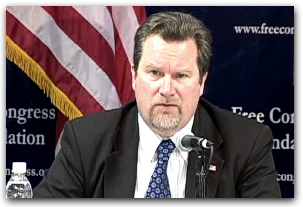 We know the ConWeb loves to distract from right-wingers who commit massacres, but leave it to Accuracy in Media's Cliff Kincaid to take it to the next level by twisting the Colorado Planned Parenthood shooting to focus on his own obsessions.
in a Nov. 30 AIM column, Kincaid dismissed alleged Planned Parenthood shooter Robert Dear as a "crazy nut living in a shack" and rants about ... Bill Ayers:
We don't remember any outrage from the media over the alleged roles played by Obama associates Bill Ayers and Bernardine Dohrn in the 1970 bombing murder of San Francisco police officer Brian V. McDonnell. In fact, the media peddled the nonsense that Ayers and Dohrn, who helped launch Barack Obama's political career, were "anti-war activists" who bombed a few buildings and never hurt anyone.

Since "domestic terrorism" is now a topic of concern for the media, in the wake of the attack on the Planned Parenthood facility in Colorado, can we expect the media to pressure Obama Attorney General Loretta Lynch to gather new evidence in the McDonnell case? It's not likely.
The claim that Ayers and Dohrn are linked to to McDonnell's death comes from Kincaid buddy and former FBI information Larry Gratwohl, who only came forward with this alleged link in 2008 in an apparent attempt to sabotage Obama's presidential bid. (Kincaid cited this 2008 article in claiming that "For more than seven years Accuracy in Media has been calling on the media to join the campaign to get justice for McDonnell's family.")
By contrast, the San Francisco Chronicle reported that "investigators have found no evidence that links the Weather Underground to the bombing" that killed McDonnell.
Kincaid goes on to rant: "This is why the left-wing rhetoric from the media about protecting women's health and women's lives in the wake of the Colorado killings cannot be taken seriously. They see this violence as a political opportunity to smear conservatives. They don't care a whit about 'domestic terrorism,' except when it serves their political purposes." Given that Kincaid is a rabid Obama-hater who has served a conduit for the utterly discredited Joel Gilbert, Kincaid cannot be taken seriously on this or, really, any other subject -- after all, he doesn't care a whit about 'domestic terrorism,' except when it serves his political purposes.
Two days later, Kincaid was back with a column titled "Planned Parenthood Killer Was a Deranged Pothead." And -- we are not making this up -- this is all somehow Obama's rault (oh, and George Soros too):
The liberals were quick to blame conservative Christians, Republicans, and others on the right for the carnage in the Colorado Planned Parenthood clinic. It turns out the killer was a paranoid pothead who probably moved to Colorado because it offered him plenty of legal weed. The murders were just the latest example of President Obama's pro-pot policies causing "active shooter" cases in which innocent people get maimed and killed.

[...]

While President Obama blames easy access to guns for these acts of madness and death, it appears that easy access to high-potency marijuana is really to blame in the Colorado case. Marijuana is legal in Colorado, which passed a marijuana legalization measure on the state level in 2012, thanks to "progressive" groups funded by pro-drug billionaire George Soros.

Under Obama, a heavy marijuana user in his youth, the Justice Department has refused to enforce federal laws and treaties against the use and cultivation of marijuana. So the Colorado legalization "experiment" has continued.

Hence, Obama's pro-pot policies may have cost the lives of those in the Planned Parenthood clinic. No wonder Obama wants to blame guns.

Obama was a member of the Choom Gang, a group of heavy marijuana users. Speculation has mounted that Robert Lewis Dear was on "Obama choom," as it's known on the street, or "speed weed," a high potency form of marijuana perhaps mixed with other drugs.
Kincaid didn't mention that Dear ranted "no more baby parts" during his rampage, was described by neighbors as a Kincaid-level Obama-hater, and believed that anti-abortion extremists like the Army of God were doing "God's work."
Leave it to Kincaid to do anything he can to distract from the fact that extreme anti-abortion rhetoric now has a (larger) body count.
Posted by Terry K. at 1:00 AM EST