MRC Doesn't Care About Jailed Journalist, Except As A Tool To Bash 'Liberal Media'
Topic: Media Research Center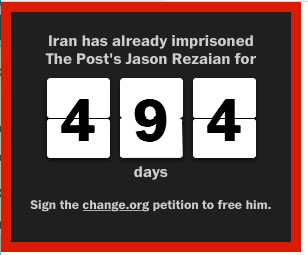 Washington Post reporter Jason Rezaian was arrested in July 2014 in Iran on vague charges -- but it took a year for the Media Research Center to notice. (Rezaian has since been convicted in a secret trial and sentenced to an unspecified prison term.) The Post is part of the hated "liberal media," after all, so he wasn't exactly a priority.
Until he could be used as a tool in the MRC's right-wing agenda, that is.
The MRC has written nine items referencing Rezaian, all since July 2015. Three of them are attacking other media for not reporting on developments in Rezaian's case, despite the fact that the MRC itself ignored Rezaian for a year after his arrest.
Five others invoke Rezaian to attack the Obama administration for not doing enough to free prisoners like him in connection with the nuclear arms deal with Iran. The final article references Rezaian in attacking the New York Times for sponsoring a tour to Iran.
If the MRC genuinely cared about Rezaian's situation, it would have said something long before it did, it would be fighting for his release, and it wouldn't cynically treat him as a tool to be used to bash President Obama and the media.
It seems the MRC is no better than Iran in treating Rezaian as a political pawn. Remember that the next time Tim Graham complains about the MRC's anti-media agenda not being recognized as "sincere."
(Image: Washington Post)
Posted by Terry K. at 2:05 PM EST