WND Columnist Defends Right-Wing Artist Who Fantasizes About Obama's Assassination
Topic: WorldNetDaily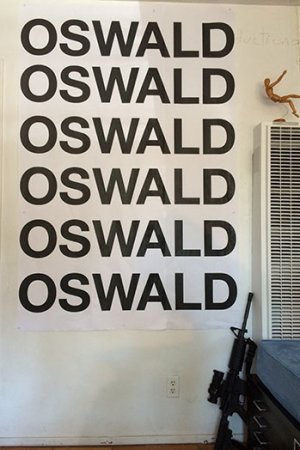 Marisa Martin -- the pseudonymous WorldNetDaily columnist who hides behind a fake name so she doesn't have to take responsibility for her fringe views -- shows why she's a fake-name believer in her Sept. 25 column, in which she praises right-wing "street artist" SABO, who for some reason has linked up with Ted Cruz to the point where he has his own page in the Cruz campaign store:
SABO comes up swinging in response to juvenile media attacks on conservatives. Thus "Ted Cruz, Vampire Slayer" was born. SABO details his inspiration. "In response to the True Blood (HPO) episode that decided to call Republican women 'Republicunts' during what they portrayed to be a Ted Cruz rally, I decided to create this STREET poster," he notes.

SABO was recently smeared by two "writers" from the Texas Tribune. Aman Batheja and Patrick Svitek found the artist guilty of controversial [conservative] statements, which are not tolerated in fluff media.

It isn't hard to find something offensive by SABO, as he disdains diplomacy. Yet the Texas Tribune accused him of "rooting for the assassination of President Barack Obama, cheering on the beheading of journalists by ISIS and using racial epithets." When taken into context and considering sarcasm (which apparently are no longer taught in journalism classes), SABO said nothing of the sort.

That didn't stop FBI agents from knocking on his door about this musing: "Imagine if every Secret Service agent just up and left their jobs tomorrow, that would be brave. Taking a bullet for a turd is just stupid."

Crude, vulgar and tasteless, but not a threat by any means. Being appalled by the idea of "taking a bullet" for the president is part of their job description. If it were a "threat," every anti-war protester and pacifist opposed to "taking bullets" for the nation would be under investigation as well.
Interestingly, Martin fails to present the supposedly sarcastic context in which she demands they be properly viewed. As the Hollywood Reporter noted, Sabo had prepared for his encounter with the Secret Service by plastering his apartment walls with posters bearing the name "Oswald." He (like Martin, he hides behind a fake name) tweeted regarding Obama's visit at a fundraiser (apparently he's capable of only tweeting in all-caps): "IT REALLY WOULD BE A CRYING SHAME IF SOMEONE CALLED TO REPORT A MAN WITH A RIFLE IN THE AREA ON THIS NIGHT."He has also tweeted: "DEAR GOD! I PRAY YOU MAKE ZOMBIES REAL AND THE FIRST ONE I HOPE REANIMATES IS OSWALD. :) - THANK YOU GOD."
Yes, Marisa, please explain the context that would make Sabo's tweets something other than the creepy threats they are. And we doubt Martin would give the same artistic license to a left-wing artist who tweeted the same things about a Republican president.
Instead, Martin hides comfortably behind her fake name, spouting questionable views and defending assassination obsessives.
Hilariously, Sabo is quoted as saying in that Texas Tribune article (after the Cruz campaign declined to comment about Sabo's assassination threats) that he stands by every threat and that "I'd appreciate it if you didn't try hanging my statements around his neck." Don't expect, again, to see someone like Martin or Sabo granting the same privilege to a similarly provocative left-wing artist similarly tied to a Democratic presidential candidate.
Indeed, after lavishing praise on Sabo, Martin spends much of the rest of her column dismissing left-wing street art, huffing, "It's a politicized media assault on the sanity of Americans who can't escape (short of living in sod huts until the indignation has passed)."
P.S. Fantasizing Obama's assassination is not even a new thing at WND; Molotov Mitchell was extremely enthused that in a recent movie, Obama's head ""pop[s] like a pinata to the triumphant sounds of 'Ode to Joy,'" expressing his own sick joy that he got to watch " a real-life dictator's head blow up."
Posted by Terry K. at 9:57 PM EDT
Updated: Sunday, October 4, 2015 10:01 PM EDT