MRC Still Won't Admit Fiorina's Misleading About Planned Parenthood
Topic: Media Research Center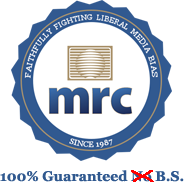 The Media Research Center, in contradiction of its self-proclaimed mission to get the media to "Tell the Truth!", has been enabling Carly Fiorina's misleading claims about the contents of a series of secretly filmed, dishonestly edited anti-Planned Parenthood videos.
Curtis Houck is the latest Fiorina apologist. In a Sept. 27 NewsBusters post, he complains about Fiorina being called for her dishonesty by NBC's Kristen Welker, who pointed out that fact-checkers (which Houck will only refer to in scare quotes) have discredited her claim to have seen a certain bit of footage in the videos. Houck huffed in response: "While Welker and 'fact checkers' may say that they multiple videos released by the Center for Medical Progress, it's fair to say that astute conservatives such as The Federalist's Mollie Hemmingway [sic] would beg to differ with their assessments."
As we've pointed out, Hemingway does not actually back up Fiorina's specific claim. In her Federalist post to which Houck is referring, she can't identify merely says that Fiorina "is likely referring to the entirety of the 10 videos."
Houck gets further incensed in a Sept. 29 post, upset that Fiorina's campaign manager is being taken to task by CNN's John Berman for her candidate's dishonesty. Berman notes that even Fox News has noted the dishonesty, and that the doctored clip in question "shows someone describing the scene. You hear someone describing the scene and then see file video which doesn't show what Carly Fiorina says it shows." The campaign manager, meahwhile, is in full kill-the-messenger mode, asserting that "the non-partisan fact checkers aren't as non-partisan as you pretending that they are."
All Houck offers in response is this: "For further reading on this matter about whether these unnamed "non-partisan fact checkers" are right, check out this fine piece compiled by the staff of The Federalist."
But that Federalist post conceded that the video was, in fact, doctored by the insertion of an outside video and is "obviously not the same baby as the one [the Planned Parenthood staffer in question] harvested the brain of."
The Federalist, however, then invokes the fake-but-accurate defense the MRC loathed when Dan Rather invoked it, claiming the doctored footage "helps viewers to understand what a 19-week old baby looks like when hearing the testimony of an ex-employee who harvested brains from babies of the same age. Illustrating stories with appropriate images is a common journalistic technique, one used by all media outlets."
Given that neither Hemingway nor The Federalist dispute or contradict the fact that the "Center for Medical Reform" used doctored footage in their videos -- and are apparently the best the anti-abortion forces have in defending Fiorina -- perhaps Houck shouldn't have cited them at all.
Posted by Terry K. at 3:06 PM EDT