WND Wimps Out, Keeps Running Coulter's Column
Topic: WorldNetDaily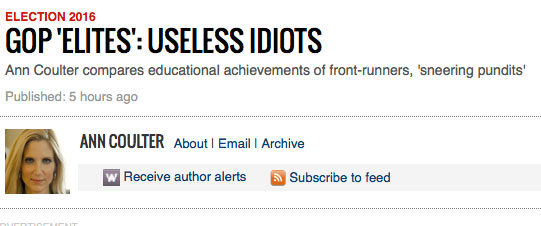 A couple days ago, we wondered if WorldNetDaily editor Joseph Farah would have the courage of his conviction that Ann Coulter has degenerated into a "slur machine" and "thuggish commentator" as demonstrated by her "f---ing Jews" tirade (despite the fact that islurs and thuggish commentary are pretty much the cornerstone of commentary at WND) and do the one thing he can to directly send a message to her: cancel her column.
Well, we have our answer, and the answer is no.
Coulter's latest column appeared at WND at its appointed time, just as it has for years.
So it seems that to Farah and WND, Coulter will never be so offensive that it will stop promoting her -- she drives too much traffic to WND, and Farah is afraid to lose it. Since she is a "slur machine" and "thuggish commentator," Coulter will almost certainly continue to say offensive things in the future, and Farah and WND will have enabled her to do so by being gutless when it counted.
Once again, Farah has put money ahead of his self-proclaimed beliefs. We are not surprised.
Posted by Terry K. at 8:53 AM EDT