MRC Silent on MRC Friend Ann Coulter's Anti-Semitic Tweet
Topic: Media Research Center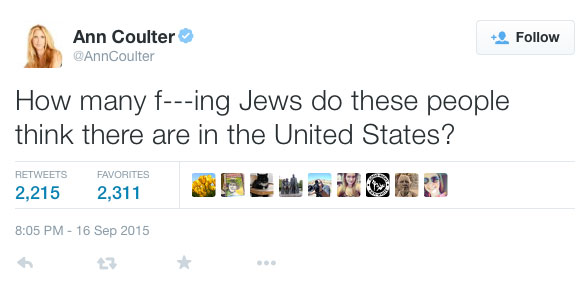 The Media Research Center is a longtime friend of Ann Coulter, having served as a judge and/or presenter for its annual "dishonors awards" several times. And in the last year alone:
MRC leaders Brent Bozell and Tim Graham devoted an entire column to promoting Coulter's new anti-immigration book, touting how she bashes the media and "Lord knows Coulter understands they deserve the hectoring."

Coulter served as a presenter last month of the MRC's "Noel Sheppard Media Blogger of the Year Award."
The MRC made a supercut of Coulter's scenes in "Sharknado 3" because, as MRC VP Brent Baker explained, it knew its readers' preferences about "what you know you want to see, but didn't want to spend two hours to catch."
As you might guess from that chummy releationship, the MRC is also a defender of Coulter, unable to identify anything she says that might be offensive. We've detailed how the MRC rushed to aggressively defend Coulter after she was credibly accused of homophobic rhetoric, so aggressive that we wondered if Coulter had some blackmail thing going against MRC chief Brent Bozell.
All of this made us wonder how the MRC would react to Coulter's Twitter rant complaining about Republican presidential candidates pandering to Israel, adding, "How many f---ing Jews do these people think there are in the United States?"
The answer so far is: not at all. Stone silence at CNSNews and MRCTV, and no mention at all on the Twitter feeds of either Bozell or the MRC. NewsBusters does link to a Mediaite article on Coulter under the headline "Coulter unleashes anti-Semitic bile on Twitter," but no NewsBusters writer mentions it in a blog post, let alone passes judgment on it.
Why the silence? Are Bozell and Co. simply that clueless about how Coulter's words hurt the conservative brand? Or do they know it's offensive but are afraid to speak out against her? That would make them either ignorant or gutless.
The problem with the MRC's silence is that because it's been so close to Coulter in the past, they have ownership in her anti-Semitic remarks. In this case, silence can only be interpreted as assent. The MRC's longtime defense of Coulter and embrace of her as a mainstream conservative is a major reason why she is in a position today to make such an offensive statement.
As we've noted with MRC's wishy-washiness over birthers, its refusal to use its position as a leader in the conservative movement to unequivocally denounce extremism in its ranks allows the so-called "liberal media" to show how that extremism is part of conservatism. The MRC repeatedly insists that the portrayal is unfair, but it won't police its ranks the way it lashes out at conservatives who move even the slightest bit to the left.
In short, the MRC must speak out on Coulter so the public knows where it stands on right-wing extremism: will it denounce her, or will it continue to embrace her as it has in the past?
Your move, Mr. Bozell.
(Updated to note NewsBusters mention.)
Posted by Terry K. at 3:45 PM EDT
Updated: Friday, September 18, 2015 5:03 PM EDT