Time for Prayer and Repentance (For Everyone But Joseph Farah)
Topic: WorldNetDaily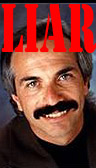 Joseph Farah started the 9/11 National Day of Prayer and Repentance a couple years back, despite his own refusal to publicly repent for his own sins and those of the website he runs, WorldNetDaily.
Well, it's that time again, and WND is on it:
That America is turning away from God is evidenced by events that are documented: Millions of unborn children have been killed in the womb through abortion, sexual immorality has been legitimized by the U.S. Supreme Court and materialism has taken over the culture – just look around.

Which makes now a perfect time for Americans to confess their sins as a nation and repent of their wicked ways. They will have a chance to do so Friday during the annual 9/11 National Day of Prayer and Repentance.

WND Founder and CEO Joseph Farah first issued the call for such a day on September 11, 2013. He was quickly joined by such figures as Rabbi Jonathan Cahn, former Rep. Michele Bachmann, Greg Laurie and Chuck Norris, and the movement is surging.

[...]

Interested people may also join Joseph and Elizabeth Farah, David and Jason Benham, Rabbi Jonathan Cahn, Dr. Richard Land and others in three national repentance conference calls, which will begin at 12:15 p.m., 1:15 p.m., and 3:15 p.m. Eastern time. Members of the public are asked to call 712-432-0075, then dial passcode 1412452#.

During these conference calls, various leaders will share the need to repent, and then all will have a chance to repent and pray for God's mercy on America.
So today's "National Day of Prayer and Repentance" is now just a conference call? That's quite a comedown.
The article goes on to tout "numerous Christian and Jewish leaders" promoting the day, but many of them -- Jonathan Cahn, Carl "PPSIMMONS" Gallups, the Benham brothers -- have relationships with WND.
Another interesting thing about that article: While it touts Farah's role in creating the apparently dwindling event, nowhere does it affirmatively claim that Farah himself will be engaged in any act of repentance.
Goodness knows it's not for a lack of things to repent. In the past year alone, Farah and WND have spread lies, (thus violating the Eighth Commandment) Farah promoted a political super PAC that was effectively a scam, and WND has engangered people's lives by discouraging vaccination and seemingly inspired a racist mass murderer. Not to mention the numerous other ways that Farah and his website regularly fail to live up to the far-right Christian values they seek to impose on others.
So how about it, Mr. Farah? Will you actually publicly repent for your sins, or will you stay silent as you always have about your sinful nature?
Posted by Terry K. at 8:39 AM EDT