Birthers At WND Blame Obama (!) For Bringing Up Birtherism
Topic: WorldNetDaily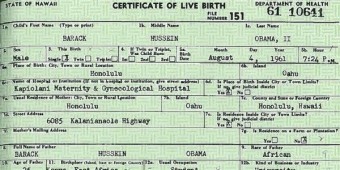 Cheryl Chumley actually starts a July 27 WorldNetDaily article this way:
President Obama took time during his Kenya visit to drag out the birth-certificate issue again – just as he did in April and in March – and do some drive-by mocking of those who still question where he was born.
Really? Chumley -- whose employer the day before published a column promoting discredited birther conspiracy theories, and the very same day published an article featuring Sheriff Joe Arpaio responding to criticism o his "refusal to give up" the (discredited) idea "that President Obama's birth certificate may have been forged," a discussion provoked when Arpaio discussed the issue with WND reporter Aaron Klein earlier this month -- thinks Obama is "drag[ging] out the birth-certificate issue again" simply by making a joke about it?
Chumley goes on to be weirdly offended that "This is the third time in just a few months Obama has brought up the birth-certificate matter at a very public venue." Apparently she hasn't noticed that her employer has been going birther for the past eight years. Except when it comes to evidence that discredits their birther conspiracies -- WND does a good job of shutting up about that.
Indeed, the unbylined article that accompanied Chumley's asserted that "Arpaio's investigative team concluded [the birth certificate] is a forgery" without any mention of the purported anomalies in the PDF of Obama's BC being easily duplicated by scanning the document using a common Xerox office scanner, or that, as former Cold Case Posse member Brian Reilly points out, the state of Hawaii has officially verified the authenticity of Obama's birth certificate, effectively putting the issue to rest once and for all.
Maybe Chumley should spend less time complaining that Obama is "drag[ging] out the birth-certificate issue again" and more time asking why her employer refuses to let it go despite all the evidence discrediting its conspiracy theories.
Posted by Terry K. at 9:45 PM EDT