WND Embraces (And Possibly Steals From) 'Liberal Media' To Help Trump
Topic: WorldNetDaily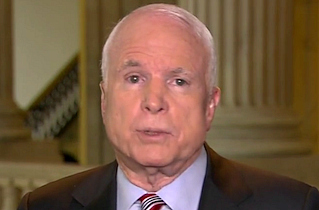 The ConWeb really doesn't hate the "liberal media" as much as they claim -- they're perfectly happy to treat liberals as perfectly credible when it suits their purposes.
Which brings us to the spectacle of the far-right WorldNetDaily enthusiastically reposting from the left-wing magazine The Nation.
WND loves Donald Trump -- indeed, WND editor Joseph Farah calls him "a shot of adrenaline" for "raising issues bluntly and fearlessly." He particularly loves how Trump is shaking up the Republican party: "There's one guy they really fear. They can't control him. They can't intimidate him. He won't take their advice. He won't play by their rules. And every day he gets more popular."
In an effort to bolster Trump's attacks on John McCain -- which include claims of McCain purportedly not doing enough to rescue alleged prisoners of war from Vietnam as a senator -- Jerome Corsi did a fine job of serving as Trump's campaign spokesman in a July 21 WND article:
McCain, whose father and grandfather were four-star Navy admirals, has been commended throughout his career in the Senate for enduring five-and-a-half years in the infamous "Hanoi Hilton" prison in North Vietnam.

But various critics, including Pulitzer-Prize winning journalist Sydney H. Schanberg, have charged that McCain, working with fellow Vietnam veteran and then-Sen. John F. Kerry, D-Mass., suppressed information about POWs believed to have been left behind by the U.S. government at the end of the Vietnam War.

In a 2008 article published by the Nation Institute when McCain was the Republican nominee for president, Schanberg wrote that the senator, who had risen to political prominence based on his war-hero image, "has, inexplicably, worked very hard to hide from the public stunning information about American prisoners in Vietnam who, unlike him, didn't return home."
Corsi's article was accompanied by a reprinting of that 2008 article by Schanberg from The Nation.
Interestingly, while WND does credit The Nation for originally printing Schanberg's article, of which WND's reprinting is apparently an "expanded version," it does not indicate that it obtained permission from The Nation's Investigative Fund or from Schanberg to reprint the article.
While WND may have actually sought and received permission from relevant parties to reprint the Nation article, it has such an extensive record of theft and plagiarism that it has not earned the benefit of the doubt here.
Posted by Terry K. at 10:18 AM EDT