WND Dances to Arpaio's Birther Tune Again
Topic: WorldNetDaily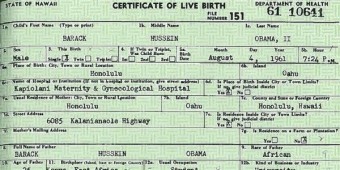 WorldNetDaily and Sheriff Joe Arpaio have long been in cahoots when it comes to promoting birther conspiracy theories. After all, it was a birther lecture by WND's Jerome Corsi to a tea party group in Arizona that was designed to manipuate Arpaio into launching a "cold case posse" to examine Barack Obama's birth certificate -- a posse that included Corsi as one of its members, thus guaranteeing it could never be fair or comprehensive.
While both WND's birtherism and the posse's activities have dropped considerably after Obama's re-election -- which WND's birther obsession was intended to prevent -- It's never stopped completely, WND has never admitted its birther conspiracies have been completely discredited, and the posse's incompetence has been demonstrated by former posse member Brian Reilly.
WND has no problem playing up the birther conspiracy when it feels like doing so, and a radio interview with Arpaio by WND re[porter (and birther) Aaron Klein provided the perfect opportunity, as a July 5 WND article documents:
In a radio interview broadcast Sunday, Arizona Sheriff Joe Arpaio affirmed he is "pretty well convinced" President Obama's birth certificate, as released by the White House in 2011, is a "fraudulent, fake document."

"I've been in law enforcement 55 years," stated Arpaio. "I think I know a fraudulent, fake document. I'm not a computer expert. I rely on my people. But I'm pretty well convinced it's a fake document."

The famous sheriff was being interviewed for "Aaron Klein Investigative Radio," broadcast on New York's AM 970 The Answer and Philadelphia's NewsTalk 990 AM.
The clip Kelin and Arpaio accompanying the article is a short one, so we can assume that Klein couldn't be bothered to ask Arpaio about the following:
The documentation that what Arpaio, posse leader Mike Zullo and other birthers have claimed as evidence that the online version of Obama's birth certificate released by the White House is a manufactured fraud -- the various layers in the PDF document -- are easily reproduced by using a common Xerox scanner to scan in the document.
Arpaio's admission in the documentary "The Joe Show" that the only reason he latched onto the birther movement was to generate donations to his own re-election campaigns.

The statement by former posse member Reilly that Hawaii's verification of Obama's birth certificate constitutes sufficient proof that Obama is a "natural born citizen" -- and puts the lie to any claim by Arpaio that the investigation is fair and designed to clear Obama.
But Klein, being the birther that he is, is sticking to WND's policy of not admitting the birthers were ever wrong, even as the evidence continues to pile up. And he no doubt helped Arpaio convince a few more suckers to donate to Arpaio's campaign.
As always at WND, agenda supercedes the truth.
Posted by Terry K. at 7:34 PM EDT