CNS Just Can't Stop Bashing John Holdren
Topic: CNSNews.com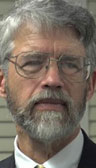 For years, CNSNews.com has been bizarrely obsessed with Obama administration science adviser John Holdren, plucking 40-year-old quotes out of context in order to attack him as an extremist. CNS editor in chief Terry Jeffrey -- apparently feeling it's been way too long since he's bashed Holdren -- resumes his jihad once more in his May 13 column, desperatelhy stretching to claim that Albert Einstein has proven Holdren's 40-year-old questions about sustainability wrong. Because you cannot see all the stars in the sky as Einstein claimed, Jeffrey theorizes that this somehow also means the Earth is infinitely sustainable:
Would it have been better, as Obama's future science adviser argued, to halt such net additional human beings from coming into existence in the first place?

Did God truly fail to provide sufficient material resources for the human beings He created and to whom He gave sovereignty over the material world?

The answer to the second question is found in the stars above: We cannot count them all yet, let alone survey them, so we have no idea how vast are the material resources our Creator has put within our potential reach.

The answer to the former question is found by looking back across the extraordinary and sometimes unanticipated improvements in the material well-being of the human race that have occurred just since Obama's science adviser called for inducing "the United States government to assume its responsibility to halt the growth of the American population."
Jeffrey seems to have missed the famines throughout history (Somalia, for example) that were at least in part the result of insufficient material resources for a given area.
Jeffrey has been so obessed with Holdren's purported views from 40 years ago -- from books he co-authored that may or may not reflect his actual views -- that he nor anyone else at CNS has ever bothered to ask Holdren in a thoughtful manner about whether he still holds those views. Instead, CNS cared only about ambushing Holdren with gotcha questions -- something that generates lots of clicks to the CNS website but does nothing for journalism or civilized debate.
But then, getting clicks and attacking anyone who doesn't adhere to the Media Research Center's right-wing views -- not engaging in journalism or civilized debate -- is how CNS rolls.
Posted by Terry K. at 8:15 PM EDT