MRC Defends Tony Perkins, CNS Gives His Lie A Pass
Topic: Media Research Center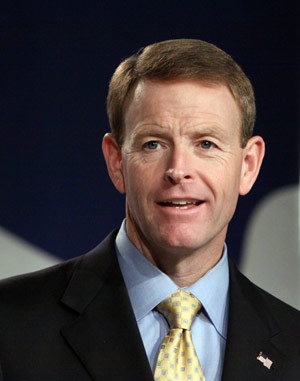 Media Research Center chief Brent Bozell signed onto a letter with other conservative leaders attacking CBS' Bob Schieffer interview with Family Research Council head Tony Perkins, so it's all over MRC sites.
The letter, issued under something called the Conservative Action Project, rants that Schieffer issued "an assault against Judeo-Christian people of faith" by making simple statements of fact: that he was "inundated" with request to disinvite Perkins because he doesn't "speak for Christians," and noting that the Southern Poverty Law Center has listed the FRC as a "hate group" because of its anti-gay stance.
The letter then attacks the SPLC by bringing up Floyd Corkins, the man who attempted to shoot up the FRC headquarters, because the "homicidal SPLC supporter" Corkins said he found his target on the SPLC website. It claims the SPLC is "discredited" and "disgraced" but offers no evidence it has provided any false information or that it ever expressed any support for Corkins' crime.
That attack is irrelevant to the issue at hand. We doubt that conservatives like Bozell consider Operation Rescue to be "discredited" because Operation Rescue supporter Scott Roeder had contact with members of the group and later went on to murder abortion doctor George Tiller.
The MRC and NewsBusters sites reprint an MRC press release, but CNSNews.com serves up an unbylined "news" article on the letter that is also press release-like, but also takes a stab at looking like journalism with statements like this:
Schieffer also accused Perkins of saying that justices who ruled in favor of gay marriage should be impeached, an accusation Perkins denied.

"I didn't say anything about impeachment of the judges. What I said was that they're not the final say on this issue," Perkins corrected him.
But Perkins' "correction" is a lie. As Right Wing Watch points out, Perkins appeared last week on the radio show of Iowa conservative Jan Mickelson, who ranted that Congress should attempt to strip the Supreme Court of its jurisdiction on marriage and "impeach [their] sorry keisters," to which Perkins responded: "I don't disagree with you, I think you are absolutely right."
So, yes, Perkins did endorse the idea of impeaching SCOTUS justices who voted to legalize same-sex marriage nationwide. It's a little inconvenient while the MRC and other conservatives are defending Perkins, so it will go down the memory hole.
Posted by Terry K. at 12:39 AM EDT