Will WND Correct Or Retract Its False Harry Reid Story?
Topic: WorldNetDaily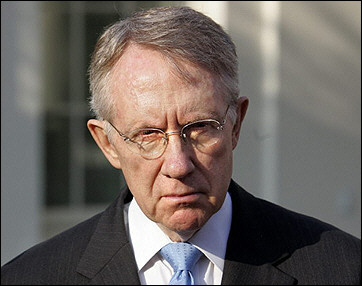 Earlier this month, as we documented, WorldNetDaily boarded the Harry Reid conspiracy train with an article by Garth Kant uncritically promoting a claim that the injuries Reid suffered on a piece of exercise equipment were in fact inflicted by his brother.
Just one problem: that story was completely made up.
The Las Vegas Sun reports that the man who says he made up the story about Reid's brother, Larry Pfeifer, says he did so to see how far an uncorroborated story would get in the conservative media. Though Pfeifer revealed to the outlets that he was using a pseudonym, none of the outlets who promoted the story demanded proof of his true identity.
How is WND reacting to this information? By doing as little as possible. It stole the first few paragraphs of the Sun story for posting on its own website, but Kant's original story stands uncorrected and unretracted.
This development comes, ironically, as Kant's boss, Joseph Farah, is touting his supposed investigative skills. In his April 27 column, Farah "brag[s] about my editorial team" in pursuing his feigning of interest in the death of Miriam Carey, "especially WND news editor Garth Kant, a veteran of CNN and MSNBC – but don't judge him too harshly for that resumé."
Farah insists that "the work we have done on the Miriam Carey case is the kind of work that once won Pulitzer Prizes." But copying stuff from right-wing websites and refusing to correct it when it turns out to be false, like Kant is doing, is not the work ethic of a Pulitzer Prize winner.
Perhaps Farah should focus on getting the basics of journalism right -- fairness, balance, accuracy, prominent correction of errors -- before indulging in his Pulitzer delusions.
Posted by Terry K. at 10:44 AM EDT