Today in Tim Graham: An Old Anti-Clinton Attack, And An Aborted Insult
Topic: Media Research Center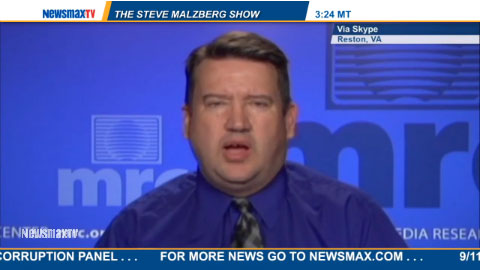 In an April 22 NewsBusters post, Tim Graham claims it's "trash talk" for Michael Tomasky to claim that the Clintons "aren't corrupt" simply because they've been the target of decades of partisan-driven investigations and have never been indicted:
Tomasky is obediently employing the Clinton tactic of lowering the scandal bar to a lack of indictment equals moral probity. He's also suggesting that a lack of indictment somehow proves Hillary was never a "congenital liar." This is the woman who denied they was any evidence of her husband's sex with Monica Lewinsky and shamed the media into covering the real sexual offender: the "vast right-wing conspiracy."
Where have we heard this argument from Graham before? Oh, yes -- we remember now.
Back in 2007, we wrote an article on Graham and Brent Bozell's attack book on Hillary Clinton, pointing out that the bill of particulars they were peddling regarding her alleged corruption lacked context and mentions of exculpatory evidence, not to mention the fact that after all of those investigations in the 1990s, the Clintons were never indicted on corruption charges. Graham didn't take that well, writing a post containing a very familiar complaint:
In his article, Krepel is playing the same old Not a Crook card to exonerate his heroine. We said Ray found her testimony to be factually false. He notes that Ray declined to prosecute, citing "insufficient evidence." The Clintons and their Arkansas toadies like Krepel athletically raise the bar, implying that the Clintons didn't lie unless they were indicted for it.

[...]

Our book isn't claiming Hillary should be behind bars. Our book is claiming that the media cannot be relied upon to investigate the Clintons with any vigor, especially the television networks.
As we noted at the time, the MRC has done the very same thing we were accused of in portraying a lack of indictment as vindication; in 2005, MRC writer Brent Baker declared that Rove's non-indictment in the Valerie Plame leak case was a "vindication" for him and didn't question whether Rove still did unethical things that simply didn't rise to a prosecutable level.
It's also quite hypocritcal for Graham to sneer at Tomasky's supposed "trash talk" when he's perfectly willing to dish it out himself. Note the URL of Graham's post; it contains the word "dumbassky," which means that sneering insult of Tomasky was part of the original headline of the post.

By Graham's Clinton standard, he doesn't deserve a pass for not ultimately using it -- after all, it's in the permanent URL for all the world to still see.
The fact that Graham actually considered "dumbassky" as a headline for his Tomasky post shows his emotional immaturity and dogmatic need to attack anyone and everyone who doesn't conform to right-wing orthodoxy.
Posted by Terry K. at 10:44 PM EDT
Updated: Sunday, April 26, 2015 10:48 PM EDT