Newsmax's Hirsen Laments Bad Reviews For New 'Paul Blart' Film
Topic: Newsmax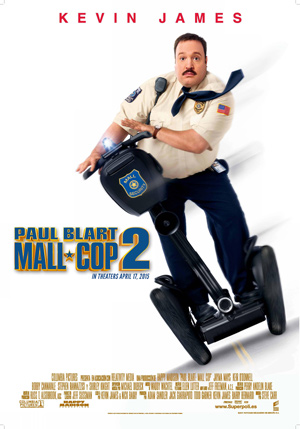 James Hirsen uses his April 20 Newsmax column to ask where the love is for the new Kevin James film "Paul Blart: Mall Cop 2," declaring that the film's opening-weekend success "is particularly impressive when examined in light of the excessively brutal reviews that the mainstream film critic community has heaped upon it."
Well, not really. A film sequel generally has a good chance to do well in its opening weekend no matter its quality or reviews from critics. Hirsen works in Hollywood, so he ought to know that.
Hirsen went on to complain that no movie-review websites "paid attention to a positive review that appeared on Ted Baer's [sic] Movie Guide site, in which the film is characterized as 'the funniest family movie in many years.'" Hirsen doesn't explain why anyone should pay attention to right-winger Baehr, who thinks the "Harry Potter" books and films "teach rebellion against authority" because "Witchcraft means rebellion against God's authority in the Bible."
Hirsen pumps up James' supposed family-friendly bona fides, pointing out that he "is married, has four children, and is a committed Catholic believer," as well as "part of an expanding group of professionals in Hollywood who are committed to the goal of creating family friendly fare for the general viewing audience."
Hirsen also ought to know that box-office take is not directly proportional to a film's quality, yet he concludes his column by suggesting it is: "A quick look at the box-office results makes it clear that James has come through for his fans in a big way, and hopefully this portends that more wholesome Hollywood product is in store for the public."
Given that Hirsen promoted Mel Gibson and his film "The Passion of the Christ" -- and defended Gibson after unsavory rants went public -- for years without discolsing the close personal relationship with the actor makes us wonder if there's something between him and James he's not mentioning.
Posted by Terry K. at 9:42 PM EDT