Newsmax Promoting Rubio, Giving Him Campaign Advice
Topic: Newsmax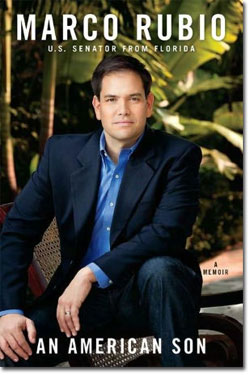 Newsmax is not only boosting Marco Rubio's presidential campaign, CEO Christopher Ruddy is trying to tell him how to run it.
On the promotion side, Newsmax is currently offering a copy of Rubio's "engaging autobiography," in which he "shares his gripping life story," for a loss-leader price of $2.95, plus the usual trial subscription to Newsmax magazine that one must opt out of in order to avoid being charged $39.95 for entire year. The promo adds: "Marco Rubio's story is America's story. His story gives hope. His story is one every American who cares about this country should read."
Meanwhile, Ruddy wants Rubio to adjust his campaign messenging. In an April 17 column, Ruddy complained about Rubio's rhetoric calling himself the future while implying that Jeb Bush is the past:
While I agree Marco Rubio is the future of the GOP and a breath of fresh air on the national scene today, he is not answering the real cry of conservative and independent voters.

Today, Americans — especially Republicans — are not interested in a generational change of leadership in Washington.

[...]

Americans are desperate, not for change as Rubio suggests, but for solutions.

This time they want to elect a problem-solver — someone who is experienced and has a track record of getting the job done. And Americans would prefer to have someone from outside Washington to clean house.

On the Republican side, we have several strong candidates who fulfill that requirement. They are experienced; they are outsiders; they are problem-solvers; and they get things done.

The first person who fits the bill is Jeb Bush.

[...]

I think Marco Rubio made a strategic error by focusing on the "future" and emphasizing his candidacy as a generational change. He should have focused more on his solutions for what he ails the nation, his own new frontier.

Still, he is a much more complex candidate than that alone, and will, no doubt, contribute to the upcoming debate. At the age of 43, he is also positioning himself well for the future. But for the moment, the country needs a Mr. Fix It, with a proven record of doing just that.
Newsmax was proud enough of Ruddy's advice that it published an article the next day citing how conservative talking head Lawrence Kudlow agrees with Ruddy.
Even if Ruddy is claiming to support Jeb Bush for 2016 -- Ruddy, like Rubio and Bush, is based in Florida -- he has been a cheerleader for Rubio in the past. Ruddy wrote glowingly about Rubio's outreach to Hispanics in 2012, and Newsmax donated $1,500 to Rubio's 2010 Senate campaign.
Ruddy is a player in Florida politics -- he's tried to play kingmaker for various Republican candidates there, and at one point was a possible candidate for the Senate seat currently held by Democrat Bill Nelson. He would almost certainly like to have a hand in picking the next Republican presidential candidate, especially since two major contenders are from Florida.That may be what's driving Newsmax's editorial and business decisions these days.
Posted by Terry K. at 10:20 PM EDT