Newsmax Still Suggesting Kerik Really Wasn't Guilty
Topic: Newsmax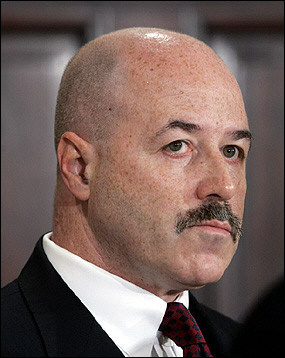 Former New York City police commissioner Bernard Kerik has a new book out about his incarceration on corruption charges and his new crusade for prison reform -- and Newsmax, the chief component of the crusade to rehabilitate Kerik's reputation, still wants to promote the idea he really wasn't guilty of what he did.
An April 1 Newsmax article by David Patten uncritically promotes Kerik's book -- he proclaims it "like a late-night alarm jangling down an abandoned street ... a warning to be heeded" -- and adds a little editorial comment about the nature of the charges that landed Kerik in prison:
Kerik very nearly became head of the Department of Homeland Security in 2004. But he withdrew his name after it came to light that he did not pay payroll tax for his children's nanny.

He would ultimately become ensnared in a series of allegations that his defenders contended were politically motivated. Finally, after fighting a drawn-out, expensive legal battle, he pleaded guilty in 2009 to charges of tax fraud and making false statements.
Patten didn't explain who these "defenders" were, let alone that the chief defender is his employer.
In an interview with Kerik the previous day, Patten similarly asserted that Kerik "was battered by a flurry of allegations and probes that some saw as politically motivated." But he apparently never questioned Kerik about it in his interview -- perhaps because it would have clashed with the fact that Kerik put his "prison ID and inmate number right there on the cover of your book," as Patten also noted.
Kerik served his time and is owning his offenses. Why is Newsmax still trying to cover for him?
Posted by Terry K. at 9:47 PM EDT