WND's Birthers Atempt To Ignore Birther Issue With Cruz
Topic: WorldNetDaily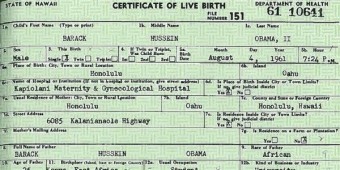 WorldNetDaily is way enthusiastic about the idea of Ted Cruz running for president:
A March 23 article by Cheryl Chumley touts how "the fiery tea party Texan" told an mandatory convocation at right-wing Liberty University about "what he described as the greatness of America: that our rights come from God.
Joe Kovacs dutifully transcribed Rush Limbaugh's reaction to Cruz's announcement.
Garth Kant gushed over how Cruz "will follow the playbook of the right's greatest hero, Ronald Reagan."
The king of all gushers, though, is WND editor Joseph Farah, who slobbered:
It's been a long time since I've heard any political figure do what Sen. Ted Cruz did yesterday in his announcement he is seeking the Republican nomination for the presidency.

He delivered an electrifying, motivational, rousing case for liberty – explaining why it's not too late, why Americans don't need to lower their expectations, how this country has overcome greater odds in its history.

[...]

I am not making an endorsement for the presidency here. But I am giving Ted Cruz a big hallelujah, a heartfelt amen.

This is the way I wish other Republicans and conservatives would talk. There's a reason Ronald Reagan, with similar views, was able to win landslide victories in the 1980s. It's because he was the Great Communicator. Ted Cruz may be one, too.
Unmentioned in all of these articles: Discussion of Cruz's eligibility to bne president. (Farah huffed that Cruz's critics noted that "There are questions about his constitutional eligibility for office.")
WND has long promoted the idea that the Constitution's requirement that the president be a "natural born citizen" -- which the Constitution does not define -- should be defined only as someone born in the U.S. to parents who are both American citizens. In the process, WND has studiously avoided reporting the existence of court rulings that support the idea that citizenship can be conveyed at birth through other means.
WND's strict definition of "natural born citizen" hits the wall when it comes to Cruz -- not only was he born in Canada, his father was not an American citizen and did not become one until 2005. Thus, under the definition WND has embraced, Joseph Farah's favored candidate for president cannot run legally run for office.
Further, Cruz held dual citizenship in Canada before renouncing it only last year. WND -- which made a big deal out of Obama having dual citizenship in Kenya, which he automatically lost on his 23rd birthday -- has touted the birther argument that "the framers of the Constitution excluded dual citizens from qualifying as natural-born."
But when Donald Trump -- who sought the aid of Farah and WND when he wanted to attack Obama's eligibility in 2011 -- played the birther card on Cruz, it was only then that WND was moved to address the issue.
Even though WND has a ridiculously large archive of articles about Obama's "eligibility," Cheryl Chumley didn't reference any of them in her March 24 article, instead pushing definitions of "natural born citizen" that included Cruz (which are in the mainstream of constitutional thought).
Farah previewed WND's strategy a year ago when he washed his hands of Cruz birtherism after his Obama birther crusade bombed so spectacularly. Now, it seems WND is trying to bury the idea that it ever raised eligibility issues.
Posted by Terry K. at 11:42 AM EDT