WND vs. Hagee 'Blood Moons' Credit Battle Continues
Topic: WorldNetDaily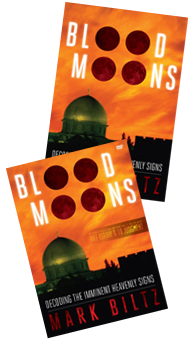 WorldNetDaily's war with pastor John Hagee over the "blood moons" idea goes to the next level in a March 22 WND article describing the response by a Hagee spokesman to WND's demand that Hagee retract his claim to be the "discoverer" of the "blood moons" idea.
The spokesman, Ari Morgenstern, claims that Hagee was referring to his personal discovery, not claiming to be the first person to have discovered it. Farah sneered in response that this was "parsing words in a way that would make Bill Clinton proud."
WND engaged in its own Clinton-esque parsing later in the article, when it responded to Morgenstern's claim that "WND falsely claimed that Hagee does not believe that Jews need Jesus to be saved." WND's response: "WND never reported on what Hagee currently believes, only on the controversy he set off when he said in a commercial what would be found in his book," followed by more sneering from Farah that "I'm happy to hear that Hagee no longer subscribes to those anti-biblical positions."
As before, WND buries its financial interest in this issue -- it published a bookon the subject by Mark Biltz, who does claim to have discovered the issue, and made a movie about it. WND demonstrated more than a little butthurt when the Hagee spokesman pointed this out:
Morgenstern concluded in his letter: "While these facts clearly call into question WND's objectivity, they pale in comparison to the conflict of interest associated with Farah's apparent financial stake in advancing this false narrative. Not surprisingly, in the piece, WND repeatedly advertises and links to purchase options of Biltz's relevant book and film – which as the WND piece mentions, Farah is, respectively, publisher and producer."

"I do hope that Farah will exhibit the strength of character to acknowledge that he's made what I believe are a series of financially motivated blunders," Morgenstern continued. "However, either way, I would note that in our view, WND is obligated to issue corrections to those errors discussed above."

Farah responded by saying: "I am accused of standing up for Mark Biltz because of my own financial interests. Yet it is Hagee who has made millions off Mark Biltz's discovery, far more than Biltz and I combined ever expect to make as a result of our work on this subject."
Note that Farah never denies that financial issues are a motivation for his actions against Hagee.
As before, the WND article doesn't carry a byline despite the fact it's one of the more balanced (if still self-aggrandizing) pieces of reporting it's published in years.
Meanwhile, Farah devoted his March 22 column to telling his side of the story, insisting that "I think we have presented Hagee and his team with a simple, inexpensive and honorable way to do the right thing for Mark Biltz, his book, his movie and his reputation" but that so far they "have acted like the offended party, claiming WND and Biltz have mischaracterized the facts."
Given WND's long history of mischaracterizing facts, Hagee's team does have a point.
Posted by Terry K. at 12:44 PM EDT