WND's Chumley Freaks Out About EPA Shower Grant
Topic: WorldNetDaily
Cheryl Chumley's March 18 WorldNetDaily article ominously begins: "The Environmental Protection Agency's latest regulatory push seems to be aimed at monitoring water usage in the nation's hotels, with the aim of getting guests to 'change [their] behavior,' the text of a federal grant reads."
But rather than actually quoting from the text of said grant, she quotes Rush Limbaugh claiming to read from it, then fearmongering, "The EPA is going to monitor the length of your showers. My point is, if this ever really happens, this not going to stop at hotels. You're going to have one of these in your house."
If Chumley had bothered to read the grant itself -- which is for a mere $15,000 -- she would know it says no such thing. There is nothing about a "regulatory push" or any mandatory directive; the goal is to "explore the market potential" of a device that would "provide hotel guests with the ability to monitor their daily water online or using a smartphone app, and will assist hotel guest in modifying their behavior to help conserve water."
Chumley's fearmongering was reinforced by a photo accompanying her article of a shower head with a ... thing attached to it: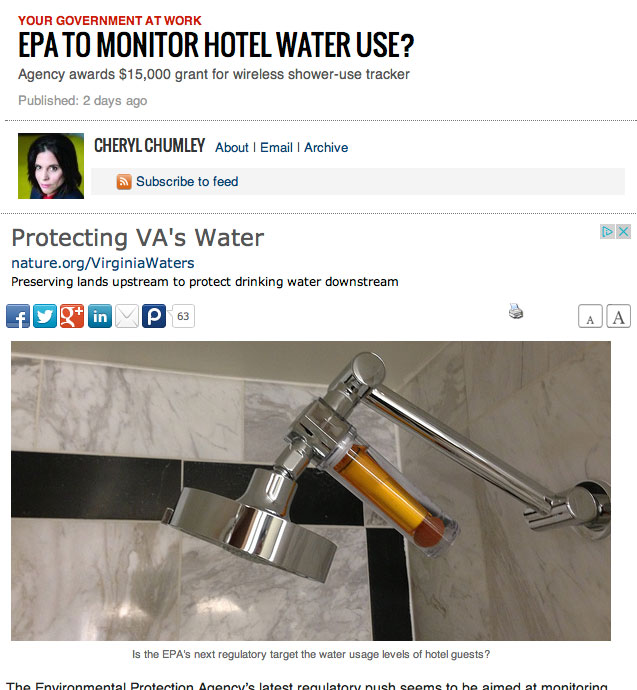 Actually, that thing is not that non-existent EPA-mandated flow meter -- the grant aims to create a "small size" device. As
this website
illustratea, it appears to be a filter that removes chlorine from shower water and replaces it with vitamin C.
Given WND's promotion of fluoride conspiracies and editor Joseph Farah's paranoid aversion to fluoride as a "poison" that "accumulates in your body," this is a device we'd be likely to find on the showers in his house.
Posted by Terry K. at 12:28 PM EDT