WND Buries Its Financial Interest In 'Blood Moons' Battle
Topic: WorldNetDaily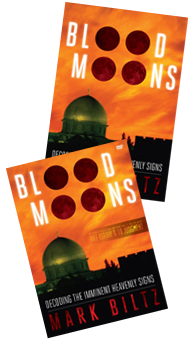 An unbylined March 18 WorldNetDaily article is a lengthy attack on pastor John Hagee for allegedly stealing credit for discovering the "blood moons" -- a series of four lunar eclipses that right-wing evangelicals are trying to link to prophecies involving Israel. In fact, WND claims, "The discovery, however, was made by pastor Mark Biltz of El Shaddai Ministries of Bonney Lake, Washington, seven years ago – a finding he has discussed in his church, on Christian television, at public conferences ever since and which he describes in detail in his own bestselling book, 'Blood Moons,' and a bestselling movie of the same name."
But who published Blitz's "bestselling" (WND doesn't back up the claim with any evidence) book and made that "bestselling" movie? WND did. That's not disclosed until the 23rd paragraph of the article.
The article quotes WND editor Joseph Farah "giving his opinions" on the situation and trashing Hagee: "If anyone thinks they have the complete blood moons story after reading Hagee's book or seeing his movie, they are sadly mistaken. Biltz's book and movie contain far more data from NASA and a much more thorough biblical and prophetic analysis. That's not sour grapes on my part. That is just the unvarnished truth."

The article also makes the awkward admission that WND "heavily promoted Hagee's book" along with its own work from Blitz, but insisted that it did so 'because it would bring attention to the subject matter." AS of this writing, Hagee's book is still for sale at the WND store. WND also concedes that "Hagee briefly served as a weekly WND columnist in 2002."
The financial motivation aside, it's actually a fairly well-written article by WND standards -- it actually gets a quote from Hagee about how he found about the "blood moons." But it somehow doesn't warrant having a byline, while Bob Unruh regularly gets one for his egregiously biased and falsehood-filled stenography. Strange.
UPDATE: A new article states that WND has sent a letter to Hagee demanding that he publicly retract his claim to be the "discoverer" of the "blood moons" idea.
Posted by Terry K. at 1:32 PM EDT
Updated: Thursday, March 19, 2015 10:53 PM EDT