CNS' Starr Thinks It's News That Sexual Orientation Can Change Over Time
Topic: CNSNews.com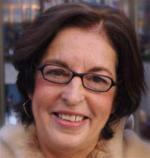 This is the entirety of a March 13 CNSNews.com article by Penny Starr:
Planned Parenthood Federation of America tells teens on its website that it "can take a long time" to determine one's "sexual orientation or gender identity."

"Sexual orientation describes which gender(s) you're attracted to, sexually and/or romantically," says Planned Parenthood's "All About LGBTQ at a Glance" webpage. "Sometimes a person's sexual orientation changes over time, but people can't choose or decided to change who they're attracted to."

"It can take many years for people to understand their sexual orientation, and it can change over your lifetime — so a lot of people call themselves questioning, which means they aren't sure about their sexual orientation and/or gender identity. This is common — especially for teens," the website states.

"LGBTQ stands for lesbian, gay, bisexual, transgender, queer or questioning," says the webpage.
That's it. There's no explanation why of Starr finds this to be "news," or even that it's somehow a change from previous information provided by Planned Parenthood or any other credible organization on the subject (it's not).
The important thing about this article is what's not in it: It does contradict right-wing opinion that choosing to be something other than a heterosexual is a conscious choice and nothing more than a "lifestyle" that can be easily changed on a whim. It's nothing but a dog whistle for CNS readers, who have fulfilled their end of the deal by filling the article's comment thread with anti-gay vitriol.
Indeed, CNS gave away the game when it tweeted out a link to Starr's article with the added comment, "Homosexual by Choice?"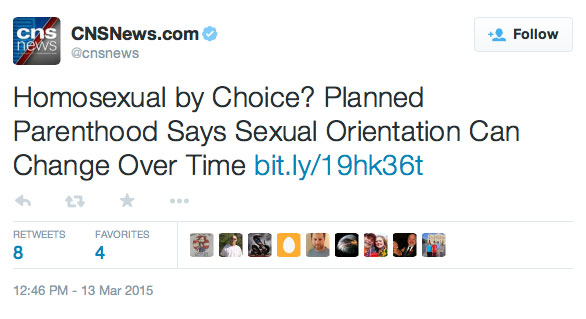 Just a few days ago, Starr's fellow CNS reporter Barbara Hollingsworth
fretted
that "Psychology Today announced last week that it will no longer accept ads from therapists who offer 'conversion therapy' or 'reparative therapy' to gays who want to leave the homosexual lifestyle." As could be expected, she devoted much more space to those who oppose the decision than to those who say such "reparative therapy" is harmful.
If Starr wanted to do real reporting, she would have done a lot more than she did. But these four paragraphs shows she's simply regurgitating her employer's anti-gay agenda rather than being a journalist.
Posted by Terry K. at 6:01 PM EDT
Updated: Friday, March 13, 2015 6:09 PM EDT