WND Bashes DHS Report, Defends Cop-Killing 'Sovereign Citizens'
Topic: WorldNetDaily
It seems that every time a governmental report comes out detailing the threat that violent right-wing extremists can pose to Americans, WorldNetDaily distorts the research and misleads its readers about what is actually being said.
Well, another report is coming out, and WND is ready to distort and mislead once again. Chelsea Schilling's Feb. 17 WND article starts things off with a band by putting a lie right in the headline: Obama DHS: 'Right-wing extremists' greater threat than ISIS."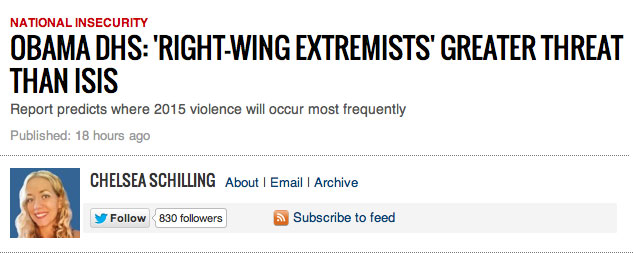 Schilling herself -- one of WND's leaders in
getting things wrong
-- repeats the lie in her opening paragraph: "The Obama administration has named a national security threat it believes is more dangerous than even the Islamic State terrorists beheading, crucifying and burning innocent human beings: Right-wing extremists."
But a couple paragraphs later, Schilling reports that it isn't the DHS making that assertion, it's other law enforcement officials:
CNN doesn't cite specific sources, but it says the new intelligence report references "24 violent sovereign citizen-related attacks across the U.S. since 2010."

"Some federal and local law enforcement groups view the domestic terror threat from sovereign citizen groups as equal to – and in some cases greater than – the threat from foreign Islamic terror groups, such as ISIS, that garner more public attention."
Schilling apparently made no effort to verify the fact that "sovereign citizens" like to kill people. One incident about a father-and-son pair of "sovereign citizens" killing two police officers in Louisiana is treated by Schilling with "reportedly" and "allegedly" disclaimers. In fact, it's all true.
Rather than doing any sort of actual research a reporter would do, Schilling instead rehashes a rote right-wing atatck on the Southern Poverty Law Center.
WND's columnist are even less bound by the facts than WND reporters, which is something that WND editor Joseph Farah is bizarrely proud of. Pamela Geller screeches in her Feb. 19 WND column:
Obama's war on "countering violent extremism" turns inward – on Americans. CNN reported Thursday that "a new intelligence assessment, circulated by the Department of Homeland Security this month and reviewed by CNN, focuses on the domestic terror threat from right-wing sovereign citizen extremists and comes as the Obama administration holds a White House conference to focus efforts to fight violent extremism."

The DHS report unveils the Obama doctrine – ignoring the jihad and targeting the right – in a deliberate demonization of an increasing number of Americans who understand that our rights are being usurped and that the U.S. government has been hijacked by a collective of destroyers and anti-American operatives. This is not new. Obama made these same vicious accusations in a similar DHS report in early 2009. It is a strategy.

[...]

This DHS report is a covert declaration of war. America is "a government of the people, by the people, for the people." This is a declaration of war on that very principle. America was founded on an anti-government idea of freedom and individual rights. Ayn Rand said, "The source of the government's authority is 'the consent of the governed.' This means that the government is not the ruler, but the servant or agent of the citizens; it means that the government as such has no rights except the rights delegated to it by the citizens for a specific purpose." Further, "a dictatorship is a country that does not recognize individual rights, whose government holds total, unlimited power over men."

We are approaching that level of control.

Obama and his appointed thugs have made the good guys the enemy.
So a man who murders a cop for doing his job, as has happened in Lousiana and elsewhere -- indeed, anti-government extremists are considered to be the top threat to law enforcement -- is a "good guy"?
Geller then falsely smears the SPLC as "members-turned-assassins" who "have been involved in a number of shootings." She harrumphs, "Obama refuses to call Islamic terror Islamic, but will designate Americanism a terror threat."
Perhaps Geller would like to explain to the widows of the two police officers shot and killed by "sovereign citizen" Jerry Kane and his son simply for pulling them over in a traffic stop how the Kanes were "good guys" and real Americans and the police officers were not.
Geller's Obama derangement has reached sickening levels.
WND columnist and foreigner Christopher Monckton also apparently thinks these cop-killers are good guys as well:
Now, as anyone who has worked in government will know perfectly well, it is a central principle of national security that the intelligence services must not – repeat not – allow the political propensities and proclivities of the current administration to sway their judgment or derail their impartiality.

For there is no surer way to encourage domestic terrorism than to give the impression that the intelligence services have ceased to defend all citizens and have instead taken partisan sides with the administration to act selectively against those citizens whom it regards as its political opponents.

Mr. Obama is already in quite enough trouble for bowing to Saudi royalty, calling himself a Muslim, and disingenuously pretending that various Muslim terrorist factions are nothing to do with Islam.

Now his administration has foolishly given the appearance of actively siding with the Islamic terrorists by circulating its heroically daft assessment that "right-wing sovereign citizen extremists" who kill by the twos and threes are more of a threat to the security of the United States than the terrorists who shriek Allahu akhbar as they kill U.S. citizens by the thousands.
Of course, cop-killing extremists are not merely "political opponents" -- they are murderers.
Since he does not even live in America, Monckton is apparently unaware of the sovereign citizen movement's violence. Or perhaps he is aware and is hoping they get close enough to Obama to kill him.
Posted by Terry K. at 7:17 PM EST