WND Is Back In The Race-Baiting Business
Topic: WorldNetDaily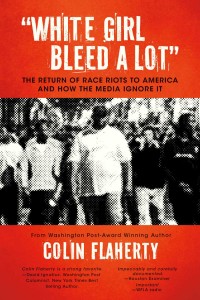 Apparently, whatever moratorium WorldNetDaily had on race-baiting on its website has been lifted.
In the wake of an incident about teens storming a theater in Florida, WND has done an article of its own on the incident -- making sure to tell us that the teens involved were black black black-- and perverted, too given the movie they purportedly wanted to see:
A mall in Ocoee, Florida, has been forced to impose a curfew after as many as 900 black teenagers, mostly girls, stormed a theater inside the mall so they could see the sexual bondage-themed film, "Fifty Shades of Grey," on Valentine's Day.
But the article to which WND links to back up its claim never states the race of the teens involved, and WND never states how it determined that every single one of the teens involved were black.
As we've previously documented, law enforcement has reduced earlier estimates of the number of teens involved -- something the WND article doesn't reflect. The current accurate estimate is around 200 teens were involved, not the 900 WND continues to claim.
Despite no actual evidence the incident could be based on black people, WND calls in its race-baiter in chief, who goes so far as to blame the decline of malls in America on blacks:
Colin Flaherty, author of "White Girl Bleed A Lot: The Return of Racial Violence to America and How the Media Ignore It," said it's just the latest example of mob violence hitting shopping malls all around the country, and the chaos is overwhelmingly perpetuated by black teenagers.

According to Flaherty, "This is similar to what happened in Jacksonville in Christmas 2013: 750 black people rushed a theater, then created havoc and violence in and out of the theater. The same kind of violence occurred in a mall in Salisbury, Maryland, not long ago. And there are so many more cases that I've documented again and again."

"This kind of violence is why you see so many 'struggling' malls and why people are withdrawing from public spaces. Ordinary families simply don't feel safe. And they probably shouldn't feel safe, because the police seem more interested in shoving incidents like this under the rug than stopping them."
We've previously noted that WND had dramatically reduced its race-baiting articles (and dropped Flaherty as a writer) around the time that Google AdSense threatened to cut off advertising revenue to WND because of all the race-baiting about "black mob violence." Given that three ad spaces on the page this article appears are controlled by Google AdSense, WND has apparently decided it doesn't need the ad revenue after all and intends to race-bait to bankruptcy.
Posted by Terry K. at 12:07 AM EST
Updated: Monday, February 23, 2015 9:43 AM EST