WND Cozies Up To Yet Another Murderous Dictator
Topic: WorldNetDaily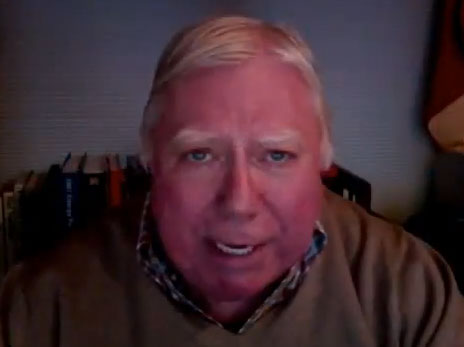 It may be hard to believe, but WorldNetDaily has found yet another murderous dictator to cozy up to. Jerome Corsi writes in a Feb. 2 WND article:
A former Republican congressman provided details of his efforts in 2011 to negotiate with Moammar Gadhafi an offer to step down as president of Libya in an effort to prevent the Libyan war.

"There was no doubt Gadhafi wanted to abdicate," said Curt Weldon of Pennsylvania in a WND interview.

Weldon, who served as vice-chairman of the Armed Services Committee and the House Homeland Security Committee, told of his private trip to Tripoli in April 2011.

"Was Gadhafi prepared to leave office?" Weldon asked rhetorically. "Absolutely, unequivocally, without any doubt in my mind, Gadhafi was ready to leave office. There were no other conditions except he wanted to leave Libya with what he called 'dignity.'"

Instead of negotiating Gadhafi's removal, however, the U.S. decided to arm al-Qaida-affiliated Libyan militia in a NATO-backed "rebellion" to oust Gadhafi by military force. Some critics of Obama's policy have charged the administration "switched sides in the war on terror," as WND reported.
Both Weldon and Corsi, however, are silent on why we should believe anything Gadhafi had to say. After all, as the Weekly Standard notes, Gadhafi was one of the world's foremost sponsors of terrorism , most notoriously sponsoring the bombing of Pam Am Flight 103 over Lockerbie, Scotland. While Gadhafi had tempered his terrorism activity in recent years, the Weekly Standard notes that he "was not a true partner against global terrorism in the post-9/11 world" because "terrorism is in his blood. It is a tool he uses quite naturally in the pursuit of his political and personal agenda, as capricious as that may be."
So why is Weldon so eager to paint Gadhafi as a pussycat who wanted to leave his murderous dictatorship with "dignity"? Because he was trying to do business in Libya and fluffing Gadhafi was part of the deal. The Huffington Post reports:
Former U.S. Congressman Curt Weldon, currently in Tripoli on a self- described "private mission" to urge Muammar Gaddafi to step down, has long tried to cultivate personal and business ties with the Libyan regime.

The ex-lawmaker, whose legislative career was marked by several criminal probes over influence peddling, visited Washington last week to discuss his forthcoming trip with members of the foreign policy establishment. Weldon led the first congressional delegation to Gaddafi's Libya in 2004 and traveled to Tripoli three more times, in 2004, 2005 and 2008.

While there, he developed a close relationship with the Gaddafi family, and during the recent unrest that has upended the country, he has remained in touch with Gaddafi's son and longtime heir apparent, Saif, sources close to Weldon tell The Huffington Post.

[...]

The ex-congressman's ties to the onetime pariah state extend beyond his time in office, which lasted until 2007. Soon after his most recent trip to Libya in 2008, in which he bragged that he had become the "1st non-Libyan Board Member of the Ghadaffi Foundation [sic]" and introduced several American businessmen to Libyan government officials, a defense manufacturer which counted Weldon as a key executive and adviser drafted a proposal to "refurbish the country's fleet of armored vehicles, including its T-72 tanks, BMP-1 infantry fighting vehicles, and BTR-60 armored personnel carriers," reported Wired.com in 2008. (The deal was never carried out, and Defense Solutions' CEO claimed his signature on the proposal was a forgery.)

In a report he wrote after his 2008 trip, Weldon proudly noted his two-hour meetings with Gaddafi in 2004 and 2005, a private dinner in London with Saif in December 2003 and his "1st and only speech by an American" to Libya's annual Great Jamahiriya, televised live on al-Jazeera TV.
We reported in 2006 how right-wing reporter Ken Timmerman, then with Newsmax, uncritically peddled Weldon's conspiracy theories and dubiously sourced attacks.
Needless to say, Corsi mentioned none of this. Anyone who attacks Obama is worth promoting no matter how non-credible they are -- andthe fact that it means siding with a murderous dictator in the process is irrelevant.
Which, of course, is yet another reason why nobody believes WND.
Posted by Terry K. at 7:08 PM EST