WND's Unruh Tries To Keep The Birther Flame Alive
Topic: WorldNetDaily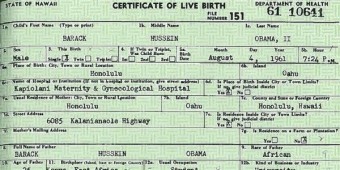 WorldNetDaily's Bob Unruh is a dishonest reporter, so it should be no surprise that he's a birther as well.
Unruh pours on the birther prose in a Jan. 24 WND article:
Barack Obama has been focusing more and more, including in his 2015 State of the Union Tuesday, on what pundits describe as legacy issues.

He may envision a legacy 20 or 30 years after his White House tenure of a Web-oriented, Washington-centric health care system that efficiently dispatches what system managers believe people need for health care – a quick abortion, dietary rules or a painkiller for a terminal disease.

In that future, he may hope, as a result of his executive amnesty, for a new Hispanic majority that routinely gives the Democratic Party power as the GOP fades into oblivion.

He may even visualize little plaques on community college campuses across the 50 states noting that Americans are attending for free in exchange for mandatory public service, because of the work of President Barack Obama.

But it's doubtful he's rejoicing in the fact that it was his presidency that raised the issue of constitutional eligibility to headlines, courts and congressional debate, and possibly even a ruling from the Supreme Court.

The issue arose even as he ran for president the first time. It surged on his election, was on fire after his inauguration and has been in the courts ever since.
Of course, the only reason the question of Obama's "eligibility" has been repeatedly in the courts is because birthers -- and their enablers at WND -- refuse to acknowledge the existence of evidence that discredits them.
Unruh's article is in the service of promoting the latest birther lawsuit; this one seeks to impose a duty upon the state of California to verify the eligibility of presidential candidates despite the fact neither state nor federal law mandates such a duty.
Unruh notes that one of the plaintiffs, John Dummett, "was a write-in candidate for president of the United States on the California election ballot," but doesn't explain how a write-in candidate can have standing to sue over a ballot issue, especially one who apparently did no campaigning for his so-called presidential run in 2012 if his Facebook page is any indication. Indeed, it seems Dummett is only claiming to be a presidential candidate for the sole purpose of trying to establish standing to sue over Obama's "eligibility."
The lawsuit -- which in this case is actually an appeal seeking to overturn a lower court's dismissal of the lawsuit -- makes this laughably false statement:
However, this Petition does not ask this Court to determine the eligibility of any particular individual to serve as President of the United States. Neither does it ask this Court to define the phrase "natural born citizen." Article VI of the U.S. Constitution already requires that both "the Members of the several State Legislatures," and "all executive ... Officers [of the] several States, shall be bound by Oath or Affirmation, to support this Constitution." All this Petition asks this Court to do is to ensure that, in fulfilling that oath by exercising their constitutional duty to determine the matter of selection of electors, these state legislators and state officers give meaning to the eligibility requirements for the office of President.
Of course, the entire goal of lawsuits like this is to specifically target Obama. Given that the lawyers in this case are noted birthers like William Olson and Herb Titus, it's even more laughable.
Speaking of laughable, here's how unruh summarized the California court's dismissal of the Dummett lawsuit: "But the California judges shrugged, more or less said 'So what?' and dismissed the case." At no point does Unruh quote what the court actually said, apparently decided what the court "more or less said" is accurate enough for WND.
Even though its birther obession ruined what little journalistic credibility WND had, it apparently is unable to stop pursuing it.
Posted by Terry K. at 1:23 PM EST
Updated: Monday, January 26, 2015 1:37 PM EST