The Jeffrey Rule: Can I Get Away With It?
Topic: CNSNews.com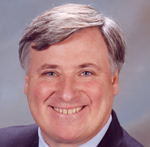 Terry Jeffrey huffs in his Dec. 17 CNSNews.com column:
Call it The Obama Rule. When will our president do something he wants to do that the Constitution or morality prohibits? When he can get away with it.

President Barack Obama did not move forward with his unilateral action on immigration before the midterm elections, because he was worried he would pay too high a price. Additional congressional Democrats might have lost, and more Democrats would have blamed him for the losses.

He moved forward with his unconstitutional action after the elections because he calculated — correctly — that Republican congressional leaders would let him get away with it.
Jeffrey won't admit it, but "Can I get away with it?" is the guiding principle of the "news" organization he runs. Jeffrey himself peddles lies and portrays opinion as "news," his managing editor promotes irresponsible conspiracy theories, and his reporters can't be bothered to report both sides of a story, going so far as to report only bad news about unemployment numbers simply because a Democrat is president (that is, when they're not shilling for the oil industry or repeating the anti-psychiatry views of Scientology).
Why? Because Jeffrey and Co. can get away with it. Indeed, the Media Research Center is not paying them to report the truth; they are being paid to advance a political agenda, and if they must lie or mislead in the process, well, so be it.
That may work for an ideologically driven organization, but CNS purports to be a "news" outlet that claims to "fairly present all legitimate sides of a story."
If Jeffrey were an honest journalist, he'd replace the word "news" in CNS's name with "propaganda." That would be a more accurate description of CNS' operations under Jeffrey.
Posted by Terry K. at 11:15 AM EST