CNS' Jeffrey Thinks Refinancing Debt Is A Ponzi Scheme
Topic: CNSNews.com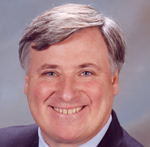 The headline on Terry Jeffrey's Nov. 28 CNSNews.com article reads "Ponzi: Treasury Issues $1T in New Debt in 8 Weeks—To Pay Old Debt." ANd yes, that's exactly what Jeffrey thinks:
The Daily Treasury Statement that was released Wednesday afternoon as Americans were preparing to celebrate Thanksgiving revealed that the U.S. Treasury has been forced to issue $1,040,965,000,000 in new debt since fiscal 2015 started just eight weeks ago in order to raise the money to pay off Treasury securities that were maturing and to cover new deficit spending by the government.

During those eight weeks, Treasury took in $341,591,000,000 in revenues. That was a record for the period between Oct. 1 and Nov. 25. But that record $341,591,000,000 in revenues was not enough to finance ongoing government spending let alone pay off old debt that matured.

[...]

This mode of financing the federal government resembles what the Securities and Exchange Commission calls a Ponzi scheme. "A Ponzi scheme," says the Securities and Exchange Commission, "is an investment fraud that involves the payment of purported returns to existing investors from funds contributed by new investors," says the Securities and Exchange Commission.
Well, no. Refinancing debt by rolling it into new debt is not a "Ponzi scheme" -- it's a universally accepted way of financing debt for both private businesses and for government, particularly if that old debt is at a higher interest rate than can be today.
Indeed, the Treasury Department's new debt is financed at a longer term to lock in current low interest rates.
This, by the way, is another piece of CNS' business and economic reporting that's credited as being "funded in part with a gift made in memory of Dr. Keith C. Wold." Even if Wold was a rock-ribbed conservative, it's probably unlikely he would accept such biased and misleading reporting occurring in his memory.
Posted by Terry K. at 9:34 PM EST