Meet CNS' Resident Mark Levin Fanboy
Topic: CNSNews.com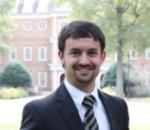 Michael Morris is CNSNews.com's assistant editor for commentary. He's also the website's chief Mark Levin fanboy. Over the ast couple weeks, he cranked no fewer than five CNS blog posts transcribing the right-wing ranter's latest alleged pearls of wisdom:
Needless to say, none of Morris' transcriptions disclose the fact that Levin has a business relationship with CNS' parent, the Media Research Center -- a relationship the MRC seems to have repaid by giving him its William F. Buckley Jr. Award for Media Excellence.
Morris claims to have a law degree, so you'd think he'd be sensitive to issues like conflict of interest. Apparently not -- which may be why he's working as an assistant editor for a right-wing website instead of as a lawyer.
Posted by Terry K. at 4:19 PM EST
Updated: Saturday, November 15, 2014 5:47 PM EST