MRC Gives Discredited AAPS A Forum To Fearmonger About Ebola
Topic: Media Research Center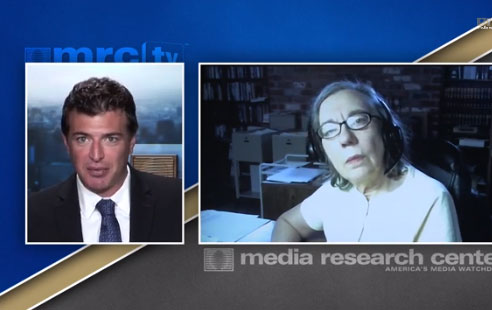 WorldNetDaily is not the only ConWeb outlet that's relying on the Ebola fearmongering of the discredited fringe medical group Association of American Physicians and Surgeons. The Media Research Center is giving them free, uncritical publicity as well.
In an Oct. 17 video, the MRC's Dan Joseph interviewed AAPS president Jane Orient, whom he declares is an "Ebola expert" without any explanation. Joseph let Orient suggest that actual medical experts are lying to the American public about how contagious Ebola is. Joseph also gave Orient a forum to rant about Obamacare.
Joseph also let Orient claim that Ebola can be spread by immigrants "crossed over our Southern border" -- which is utterly false fearmongering -- and that terrorists and sociologists think Ebola is a great tool for reducing the Earth's population: "There's been so much talk about how wonderful it would be to have something like Ebola to wipe out 90 percent of the population. There are people who think the Earth is greatly overpopulated and people who would like to destroy Americans and they don't mind blowing themselves up with a suicide vest."Joseph mildly challeged Orient on this, to which Orient responded, "We don't know it's happening, but on the other hand, we don't know that it isn't."
Joseph provided no forum for anyone to respond to Orient.
In an Oct. 27 CNSNews.com blog post, Monica Sanchez touted an "exclusive interview" with Orient, whom she also baselessly describes as an "Ebola expert." In it, Orient proclaims her support for a mandatory 21-day quarantine of anyone possibly exposed to Ebola, saying that some "exposed health care workers, along with other people, have shown that they can't be trusted to stay home voluntarily." Like Joseph, Sanchez offered no rebuttal to Orient's views.
AAPS peddles numerous fringe views, like opposition to mandatory vaccination and falsely blaming illegal immigrants for a spike in leprosy cases. It also published a column claiming that Barack Obama was using "using the techniques of neurolinguistic programming (NLP), a covert form of hypnosis" to get people to vote for him for president.
Yet the MRC think the head of the organization that promulgates such fringe views is crediblly posing as an "Ebola expert." Go figure.
Posted by Terry K. at 8:25 PM EDT