WND's Farah Perpetuates His Reporter's Lie About Houston Mayor
Topic: WorldNetDaily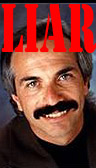 We wondered if WorldNetDaily editor Joseph Farah would ever hold his reporter Bob Unruh for spreading the blatant lie that Houston Mayor Annise Parker said that the city's non-discrimination ordinance is "all about me."
Turns out that Farah is helping Unruh spread the lie.
In an attempt to hyperbolically claim that a discovery request by the city in a lawsuit filed by right-wing activists over that non-discrimination law somehow means Christianity is being criminalized, FArah writes in his Oct. 26 column:
Today, Kahnh [Hyunh] is a U.S. citizen and Christian pastor whose sermons and communications about homosexuality are being subpoenaed by the lesbian mayor of Houston under the city's "non-discrimination" law Mayor Annise Parker says was all about her.
Farah is lying, as he does so often. Parker actually said that "the debate is about me," pointing out that opponents of the law are personally attacking her over it -- as demonstrated by the made-up quote Farah and Unruh are promoting.
The fact that the leader of a so-called news organization would actively promote a lie is just one more reason nobody believes WND.
Posted by Terry K. at 2:05 PM EDT