WND Can't Stop Fearmongering About Ebola
Topic: WorldNetDaily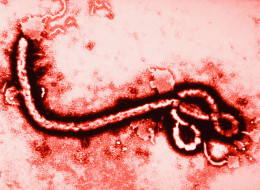 WorldNetDaily just loves to fearmonger about the purported threat of Ebola in America, and the facts aren't about to get in their way.
In an Oct. 3 WND column, Dr. Jane Orient of the right-wing-fringe Association of American Physicians and Surgeons insists that, contrary to pretty much every other medical opinion on the subject, Ebola is an airborne virus:
Officials are frequently reassuring people that the virus is not "airborne" and that "direct contact" with a sick person is required to get infected. It is not possible, we are told, to get Ebola from a person who does not have symptoms. We just need hand-washing and other "simple, basic precautions."

Meanwhile, CDC officials are in full hazmat gear, and some say that you need a buddy to make sure that every square millimeter of your skin is covered at all times. A tiny pinprick through your glove, and you've got Ebola.

The official website of the Public Health Agency of Canada stated that "airborne spread among humans is strongly suspected, although it has not yet been conclusively demonstrated."
As we noted when Orient's AAPS-linked colleague Dr. Elizabeth Lee Vliet made the same claim, that's just the medical-scaremongering equivalent of doctor-shopping, clinging to an anomalous finding that contradicts all other established medical opinion on the subject.
Further, Vox points out that the Canadian study that was the basis for this finding examined if Ebola can travel from a pig to a primate and is not necessarily applicable to human transmission of Ebola.
Orient goes on to freak out that "sometime between Oct. 1 and Oct. 2 the Agency actually changed the language of their Pathogen Safety Data Sheet on Ebola to softer, less alarming language on airborne transmission, including the removal of citations to key scientific literature." Perhaps the Agency realized that people like Orient were cherry-picking their report in order to scare people and decided to make it more accurate, but Orient seems not to have considered that possibility.
A separate Oct. 3 WND article by Leo Hohmann featured the claims of Dr. Gil Mobley, who claims that the Centers for Disease Control is "not leveling with the public about the potential for Ebola to spread in the United States" and who "gained notoriety Thursday when he showed up at the Atlanta Hartsfield International Airport in a hazmat suit with the words 'CDC is lying!' across his back." Hohmann uncritically quoted Mobley:
"Yesterday on the front page of USA Today the CDC said we're at a low risk because of our advanced healthcare and sanitary systems and because we are screening at airports," he said. "Yet I had just come through Customs the day before, and they didn't screen me.

"They didn't ask me where I'd been, they didn't ask me if I'd been sick, they didn't ask me if I'd had a fever, and they didn't thermo-scan for my temperature. That was two days ago."
That may because customs officials knew that Mobley was coming from Guatemala, which has no Ebola outbreak.
This being a WND article, Hohmann couldn't be bothered to contact anyone to respond to Mobley's stunt.
Such fact-free fearmongering is just the latest reason why nobody believes WND.
Posted by Terry K. at 7:55 PM EDT