CNS' Hollingsworth Provides An Uncritical Platform For Factually Challenged Climate Denier
Topic: CNSNews.com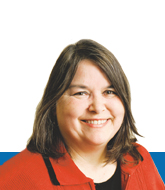 As we've documented, CNSNews.com's Barbara Hollingsworth is way into serving as a stenographer for right-wing causes but not so much into fact-checking or talking to more than one source for a story. She performs her stenography services once again in a Sept. 24 CNS article:
According to the datasets used last year, October 1st will mark the 18th year of "no significant warming trend in surface average temperature," says Patrick Michaels, director of the Cato Institute's Center for the Study of Science.
And even if the current 18-year trend were to end, it would still take nearly 25 years for average global temperature figures to reflect the change, said Michaels, who has a Ph.D. in ecological climatology and spent three decades as a research professor of environmental sciences at the University of Virginia.

Sooner or later, even Al Gore and the numerous scientists, academics and politicians who agree with him that "Earth has a fever" will have to admit that their climate models predicting catastrophic global warming were off by a long shot, said Michaels, who was also a contributing editor to the United Nations' second Intergovernmental Panel on Climate Change (IPCC) report.

"It has to be admitted eventually that too much warming was forecast too fast. That just has to happen. You can't go on and on and on," he told CNSNews.com.

"If the surface temperature resumed the warming rate that we observed from, say 1977 through 1998, we would still go close to a quarter of a century without significant net warming because there's such a long flat period built into the record now. "
Hollingsworth, of course, can't be bothered to seek anyone out who might counter Michaels' assertions, even though he has a history of getting things wrong. But because they are apparently of one mind in being climate change deniers, Hollingsworth gives Michaels the benefit of the doubt and treats his claims as undisputed fact.
Indeed, Michaels' central claim, that there has been no global warming for 18 years, is misleading. As we've documented, Michael's claim relies on cherry-picked data and choosing an arbitrary starting point; meanwhile, the long-term trend demonstrates continued global warming.
Hollingsworth also gullibly swallows Michaels' assertion of Arctic ice: "And if you take a close look at the Arctic data, it appears the decline stopped somewhere around 2005/2006, which means we've almost had ten years without any net loss in Arctic ice." In fact, Arctic ice remains near record lows.
Hollingsworth has a history of mindlessly repeating the claims of climate deniers.
Posted by Terry K. at 7:12 PM EDT