MRC Hides Fox News' Biased Coverage of Benghazi Hearing
Topic: Media Research Center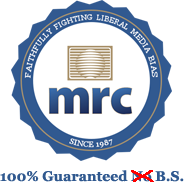 Matthew Balan writes in a Sept. 17 Media Research Center item:
CNN and MSNBC viewers on Wednesday would have to switch channels if they wanted to watch the first hearing of the House Select Committee on Benghazi. CNN aired a 15-second news brief at the top of the 10 am Eastern hour, mere minutes before the nearly three-hour meeting began, but didn't cover the proceedings live. MSNBC set aside 12 minutes worth of segments to the event, and sometimes showed split-screen video, but didn't provide the audio.

By contrast, Fox News Channel provided nearly 41 minutes (40 minutes, 51 seconds) of live coverage of the congressional committee's hearing during the 10 am and 11 am Eastern hours.
What Balan did report: Fox's coverage of the hearing was probably biased.
Media Matters monitored Fox's hearing coverage the previous day and found that the channel emphasized the question from Republican members of Congress while cutting away from questions by Democratic members. In all, Fox devoted twice as much time to Republican questions than to Democratic questions. This is something Fox frequently does, but Balan won't tell you that either.
Balan also won't mention Fox's freakish obsession with Benghazi -- nearly 1,100 segments on it since the incidence occurred in September 2012.
Why? Because Fox's agenda is the MRC's agenda. If Fox is obsessed with Benghazi, Balan must be as well.
Posted by Terry K. at 7:26 PM EDT