WND's Massie Invokes His Black Conservative Privilege Again
Topic: WorldNetDaily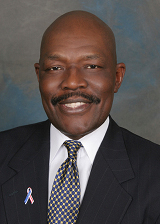 Mychal Massie uses his Sept. 15 WorldNetDaily column to engage in one of the oldest tricks in the demogogue's book: pretending that his most extreme critics are representative of all his critics.
In the column, he dismisses his critics as "white bigots" and claims that according to them, "God frowns on those who refuse to be victims and don't espouse antipathy based on skin color. The fact that my race is the human race and not some melanin-coded subsection of same is anathema to her."
That's laughable, because Massie very much exploits his race to espouse his antipathy. As we've documented, the anti-Obama and anti-black venom that spews from Massie's mouth would be automatically dismissed as racist were he not himself black. He is effectively invoking his black conservative privilege to get away with saying such things.
Massie also declares that, according to his critics, "speaking the truth is inconsistent with being a person of color." This from a man who lies with impunity in his WND columns. Indeed, he peddles more lies in his column:
Should I ignore the fact that Obama sent six special ops members to their deaths to rescue a Muslim terrorist sympathizer and military deserter, Bo Bergdahl, in exchange for five of the most high-value enemy detainees being held? Would they have me ignore the fact that Obama has done not one thing to free Marine Corps Sgt. Andrew Tahmooressi from the Mexican prison he is being held in?
First, no "special ops members" died in the exchange of Bergdahl for the "enemy detainees," and the claim that six soldiers died in Afghanistan searching for Bergdahl years before has not been substantiated. Second, even Tahmooressi's lawyer believes that diplomacy will have no effect on his case:
Defense attorney Fernando Benitez, who will represent the Afghan war veteran in a Tijuana court for the first time on July 9, said demands, threats and diplomacy from American politicians will have no effect on Tahmooressi's release.

"This is a federal court and as in any democratic nation you will not find an executive calling up a judge and ordering the release of a suspect," Benitez said. "It makes no difference if it is a mayor, governor, or the president, there's not a phone call in the world that will change this."
Massie continues to be a dishonest, hateful man who believes he can hide behind black conservative privilege to spew his hate. So what else is new?
Posted by Terry K. at 1:42 PM EDT