Climate Change Misinformation Spreads To Another MRC Website
Topic: Media Research Center
One thing about the Media Research Center's multiple web platforms is that it provides more opportunities to spread misinformation. Mike Ciandella writes in a Sept. 2 MRC post:
The same year that former Vice President Al Gore predicted that the Arctic sea ice could be completely gone, the ice has actually reached its highest point in two years. This revelation comes from a report by the Danish Meteorological Institute.

According to the report, which was cited by the British publication the Daily Mail, "[t]he Arctic ice cap has expanded for the second year in a row."
As we documented when fellow MRC employee Tom Blumer parroted the Dail Mail report at NewsBusters, Slate's Phil Plant debunked the Daily Mail's reporting, pointing out that Arctic ice reaching "its highest point in two years" is a meaningless claim given the overall decades-long trend of declining Arctic ice: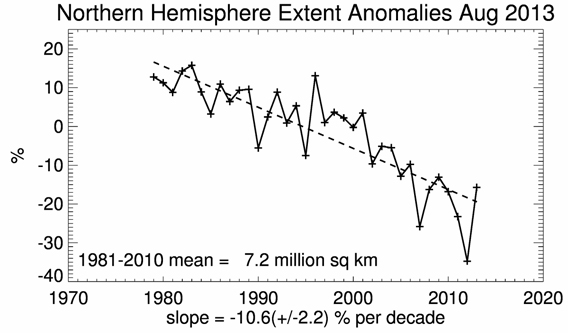 Like Blumer, Ciandella makes no effort whatsoever to fact-check the Daily Mail, choosing instead to bash perennial right-wing punching bag Al Gore.
Posted by Terry K. at 1:54 PM EDT