MRC's Graham Disingenuously Scoffs At Notion Conservative Publisher Influences His Publication
Topic: Media Research Center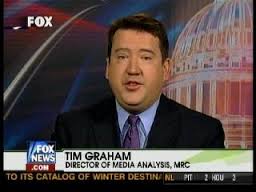 Tim Graham writes in a Sept. 2 NewsBusters post:
The Washington Post reported on Tuesday morning that publisher Katherine Weymouth was stepping down (as Amazon tycoon Jeff Bezos is now the owner), and former Politico executive Frederick Ryan is taking her place.

Post technology reporter Craig Timberg implied that the important/interesting part of Ryan's resume is his "years rising in the Reagan administration, eventually becoming a top presidential aide and key leader in the construction of his presidential library and numerous other initiatives after Reagan left office in 1989." This, he reports, will "raise questions about the direction" of the allegedly "nonideological" Post:

[...]

Laugh track, please, for the "nonideological" Post. Start with the incessant daily front-page coverage of former Republican governor Robert McDonnell's trial in Virginia right now, for example.
Remember, Graham doesn't think a high-ranking Republican accused of corruption is news.Which must be why the MRC has censored the story of McDonnell's trial.
Graham is being quite disingenuous about a newspaper publisher's politics not mattering because he's conservative. In a May 2012 column, he -- under the pen name of his boss Brent Bozell -- called New York Times publisher Arthur Sulzberger a "liberal twit." There would be no need to add that modifier to his insult of Sulzberger if politics didn't matter, right?
And the politics of the Post's owner certainly matters to Graham as well. In an August 2013 column, Bozell-slash-Graham wrote that the Graham family, in selling the Post to Amazon founder Jeff Bezos, "were confident that he had all the right political values and social liberalism."
Funny how, according to Graham, the liberal politics of media owners always infuses the media the run, while conservative media owners never does. Apparently, Graham has never read the Washington Times or the New York Post.
Posted by Terry K. at 5:09 PM EDT