NewsBusters' Blumer Repeats Misleading Claim About Arctic Ice
Topic: NewsBusters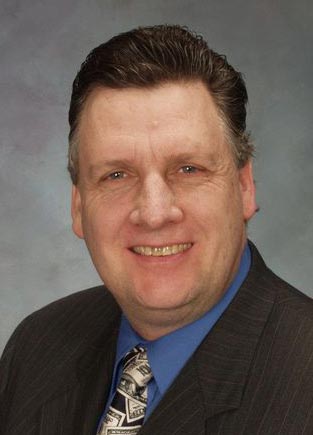 Tom Blumer is very excited in an Aug. 30 NewsBusters post:
Ice, ice baby. That's what they have a lot more of in the Arctic.

The UK Daily Mail, one of those British tabloids the left has despised going back to the Clinton administration and its paranoia about a right-wing media conspiracy, reports from authoritative sources — the kind the U.S. establishment press uses when it seems to support the hoax known as human-caused global warming — that the Arctic ice cap has expanded rapidly in the past two years. In doing so, it has made up all of what was lost between 2009 and 2012 with a slight margin to spare. Seven years ago, former Vice President and leading global warming false alarmist Al Gore predicted that "It could be completely gone."
Because this makes Al Gore look bad, the story is too good for Blumer to fact-check. Maybe he thinks he doesn't need to because the Mail's sources are so "authoritative" that they don't need fact-checking. Slate's Phil Plait does a fact-slap on the Daily Mail, which he points out is "to scientific accuracy what a sledgehammer is to an egg":
This claim is a humdinger, and typical denial double-speak. It's technically true, but also really wrong. It's like examining someone who has a 106° fever and saying it's really made their skin glow.

[...]

Mentioning Gore is at best a distraction, red meat to the deniers. Gore isn't a climate scientist, and as we well know actual climate scientists overwhelmingly agree that the world is warming. One of the outcomes of this is the decline of Arctic sea ice.

Briefly: Arctic sea ice reaches a minimum in late September every year. The overall trend for the amount of ice at that time is decreasing; in other words, there is less ice all the time. Some years there is more than others, some less. But the trend is down, down, down.

In 2012, a mix of unusual causes created conditions where the minimum reached a record low, far below normal. The next year, in 2013, the ice didn't reach quite so low a minimum extent, and this year looks very much the same as 2013. But saying the ice is "recovering" is, to put it delicately, what comes out the south end of a north-facing bull. You can't compare two years with a record low the year before that was due to unusual circumstances; you have to look at the average over time.

Of course, if you do, your claims that global warming isn't real melt away.
Plait cites actual authoritative sources, unlike the Daily Mail sources Blumer places his faith in, and even supplies a chart demonstrating the trend of declining Arctic ice over time and, thus what a bunch of bull the Daily Mail article is: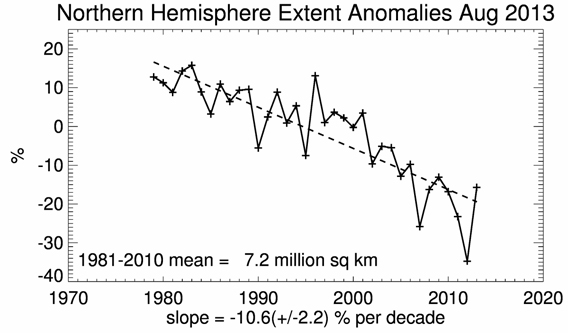 Since Blumer claims to know his authoritative sourcees, perhaps he can explain why "authoritative sources" that conform to his right-wing agenda are so much better than actual authoritative sources who don't.
Posted by Terry K. at 10:07 PM EDT