WND's Corsi Shills For D'Souza's New Film, Still Can't Get His Facts Straight
Topic: WorldNetDaily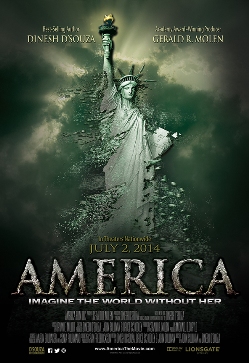 WorldNetDaily's Jerome Corsi does his best to shill for admitted criminal Dinesh D'Souza's new film in a June 30 article:
The political left is coming out "screaming," with "guns blazing," in an attempt to dampen the audience for the highly anticipated film "America: Imagine a World Without Her," its maker told WND just before its Hollywood premiere.
This being the factually challenged Corsi, he's working from a flawed premise -- that anyone who doesn't like D'Souza's film must be on "the left." Corsi cites three outlets that gave a negative review to D'Souza's film -- the Daily Beast, IndieWire and The Wrap -- but never demonstrates that the reviewers are on "the left" other than his ipso-facto fallacy that because they didn't like the film, they must be liberal.
Corsi then sets up D'Souza to dismiss the reviews as coming from "the left," as if D'Souza is intellectually or emotionally capable of taking a negative review to heart, especially as his film is opening. But like Corsi, he doesn't offer any evidence to back up his assertion about the reviewers' pruported political motivation.
Of course, Corsi is doing nothing more than serving as a PR agent for D'Souza. It's not journalism, but then, has Corsi ever acted like a journalist?
Posted by Terry K. at 12:29 AM EDT